'It Felt Like Our Stuff': Ex-CIA Director Describes How Intel Community Views Russia Dossier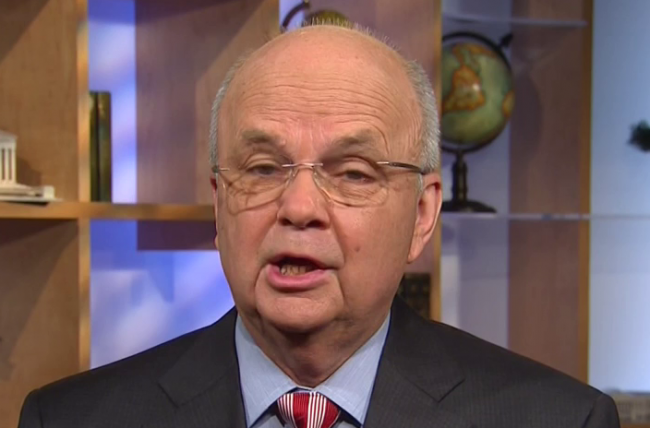 During his weekly podcast, Mediaite columnist John Ziegler spoke with former CIA Director Michael Hayden in a wide-ranging interview that covered a number of subjects such as President Donald Trump's travel ban and Trump's post-inauguration speech at the CIA.
One of the more interesting aspects of the conversation, however, touched on a topic that has kind of been pushed to the side due to all of the other news that has dominated the landscape of late. Early in the discussion, Ziegler brought up Trump's reluctance to accept the intelligence community's assessment that Russia interfered in the election in an attempt to assist Trump, noting that Trump also compared the CIA to Nazi Germany.
With Hayden explaining how intelligence agencies deal with deductive fact-based reasoning and that it doesn't always mesh with the political world, he pointed out that this created a "perfect storm" with Trump regarding Russia because it questioned the legitimacy of his election win. The discussion then pivoted to the Russia dossier that Buzzfeed controversially published earlier this month.
Ziegler asked Hayden to give his evaluation of the document that provides claims that Russia attempted to compromise Trump. The ex-CIA head first expounded on the intel community's conclusion on Russian interference to clarify the dossier wasn't part of the assessment at this point. Switching to the doc drawn up by an ex-MI6 agent who Hayden commended for his high-level of reliability in the past, the former intel leader had this to say:
When I read it, it felt like our stuff. You know what I mean? John, the part of our stuff it felt like was the stuff we put labels on top and bottom. This is raw, unevaluated information. This is not finished intelligence. And, so, if that were our stuff, if we had gotten that from our sources, we'd have then started holding that up to the light and asking questions like, 'So the guy who told you this, would he have reasonably been expected to know this? Has he reported reliably in the past? Do we have other sources that seem to reinforce this particular story?'. That's the stuff that goes on. And frankly, John, best I can tell, that effort hasn't driven anyone to conclude that any part of that dossier is true.
The two went on to talk about how and why the dossier eventually got presented to President Trump and also how Trump may be acting like Russia has compromising info on him even if that may not actually be the case.
Please check out the entire interview above to also hear Hayden's opinions on Trump's 'extreme vetting' and how he feels that makes America less safe than it was on Friday.
[image via screengrab]
–
Follow Justin Baragona on Twitter: @justinbaragona
Have a tip we should know? tips@mediaite.com