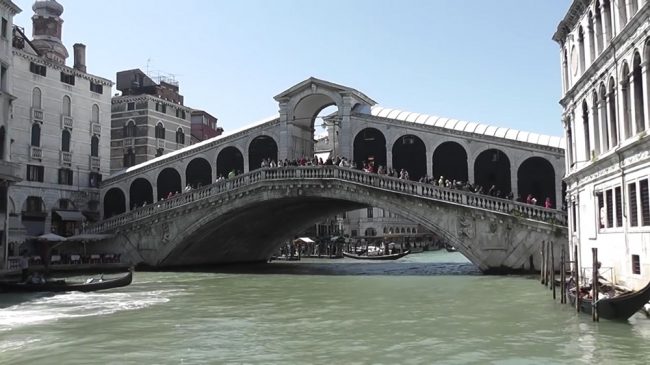 Law enforcement officials in Italy announced the arrests of three men and one minor on Thursday, who are suspected of planning a terrorist attack in Venice.
Agence France-Presse (AFP) filed a report on the terror plot on Thursday. The quartet, who are from Kosovo, were picked up as part of police sweep at 12 sites across the city.
Prosecutor Adelchi d'Ippolito revealed an excerpt from a wiretapped conversation, where the suspects discussed the bombing of the centuries-old Rialto Bridge over Venice's Grand Canal: "With all the unbelievers there are in Venice, you put a bomb under the Rialto and you go straight to heaven."
A Thursday article from The Daily Telegraph released the names of three of the suspects and additional details.
Fisnik Bekaj, 24, Dake Haziraj, 25, and Arian Babaj, 27, were allegedly admirers of the Islamic State of Iraq and the Levant (Isil) and were secretly recorded discussing how they were ready to die for the sake of jihad. A fourth person, an unnamed minor also originally from Kosovo, was detained.
The Irish Times also noted on Thursday that "all four people have been in Italy for two years with legal residence permits … working in two bars around Piazza San Marco and living in two separate small flats in the centro storico, the historic centre of Venice."
According to the AFP report, "D'Ippolito said the suspects appeared to have been studying how to build explosives but did not have the necessary components for making a bomb." The prosecutor also revealed that "there was a lot of talk about unconditional support to ISIS (the Islamic State group). It wasn't just theory and dogma."
The press agency also disclosed that the "the wiretap evidence against the suspects also includes recordings of them celebrating the attack outside Parliament in London last week and discussing their desire to join Islamist fighters in Syria."
[image via screengrab] 
Have a tip we should know? tips@mediaite.com