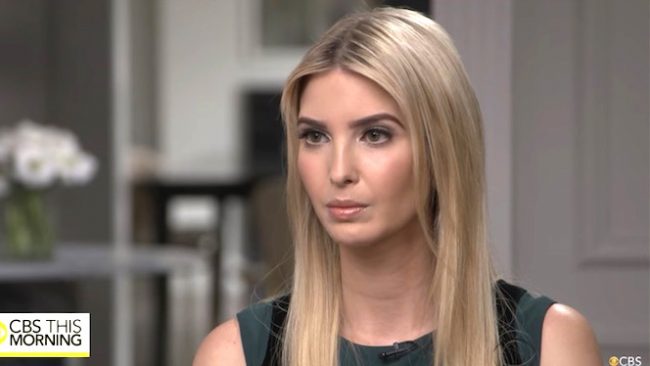 In Trumpland as the saying goes — family comes first.
Admirable? Perhaps. But as a strategy for governing the United States of America? The jury is still out. On Monday Donald Trump swore in Gen. John Kelly as his new Chief of Staff. The small ceremony took place in the Oval Office with Ivanka Trump and Jared Kushner looking on.
While Kelly has indicated that he will control access to the president and all White House staff will have to flow through him — the first daughter appears to be suggesting it won't be so simple.
In a tweet, Ivanka indicated her approval of Kelly, and also said she was looking forward to working "alongside" him.
Looking forward to serving alongside John Kelly as we work for the American people. General Kelly is a true American hero. pic.twitter.com/XQLuFaS3ce

— Ivanka Trump (@IvankaTrump) July 31, 2017
Kelly, a retired Marine General, has spent more than 40 years in uniform. Before she became a senior White House official, Ivanka Trump worked in her father's real estate company and is also known for her own clothing line. She previously worked as a model.
Ivanka's use of "alongside" — even if unintentional — suggests a remarkable sense of her own role in the West Wing and will likely complicate Kelly's plans to rein in the unruly White House. While he has vowed to control access to Trump, even pushing out Anthony Scaramucci in the process, curbing the president from access to his children will likely be a tougher sell.
And since there is likely no firing "Javanka," it is unclear how the general will mitigate their influence going forward.
[image via screengrab]
Have a tip we should know? tips@mediaite.com