James And Rupert Murdoch Decline To Testify About Phone Hacking Scandal [UPDATE]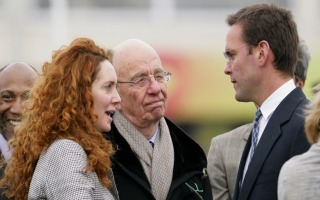 Update: Rupert Murdoch and his son James Murdoch have changed their minds and agreed to testify before Parliament following a summons.
—
News Corp. head Rupert Murdoch and his son, James Murdoch, have declined to testify before the Commons Culture Select Committee on Tuesday, July 19th, the day the committee has selected that the two address their inside knowledge of News of the World phone hacking scandal. The two risk being held "in contempt of Parliament" should they refuse to appear. However, Rebekah Brooks — who was editor of the now-defunct paper at the time of the hacking — has agreed to speak, while sharing that she may not be able to answer some questions "in detail."
Rupert Murdoch has said that he is willing to appear before a judge in a separate inquiry, and has stated publicly that he and his company have been doing their part to aid in the investigation. His son has said he would be willing to appear at a later date than proposed, such as August 10th or 11th. Committee Chairman John Whittingdale has said he particularly wants to ask James about his July 7 statement that News International executives "hadn't told Parliament the truth during previous evidence sessions on phone-hacking."
Deputy Prime Minister Nick Clegg has urged those involved to "do the right thing." Reports Bloomberg:
My message to Rebekah Brooks and the Murdochs is just do the decent thing. You can't hide away from this level of public anguish and anger and indeed interest. If you feel you've been wronged, if you feel you've been maligned…come out and set the record straight.
Brooks, for her part, has sent an apology to the family of Milly Dowler, the British teen whose voice messages were hacked into and deleted by a private investigator allegedly hired by NOTW. However, Brooks has said she was "on holiday" when the final story ran in the paper and had no knowledge about the hacking.
h/t NYT
Have a tip we should know? tips@mediaite.com