James O'Keefe's Latest Sting Video Shows Man Attempting To Vote Under Eric Holder's Name
O'Keefe's Latest Sting Shows Man Attempting To Vote Under Eric Holder's Name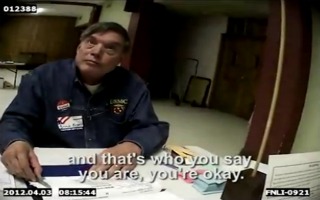 On Monday, Breitbart.com released the latest video from undercover sting artist James O'Keefe's Project Veritas which highlights the problem of voter fraud by showing a man attempting to vote in the recent Washington D.C. primary election after identifying himself as Attorney General Eric Holder.
RELATED: Former James O'Keefe 'Accomplice' Reveals 'Barn Incident' And Harassment Complaint
In the video, the unidentified young man repeatedly asks the poll worker if he needs any identification in order to cast his vote as Eric Holder – the poll worker tells him that he is not required to show I.D.
"As long as you're in here [a list of voter rolls] you're on our list and that's who you say you are, you're okay," says the poll worker.
The young man responds that he would be more comfortable showing his identification and leaves. He gives the poll worker every opportunity to call him on his ruse, saying "I'll be back faster than you can say furious," in reference to the Department of Justice's failed "Fast and Furious" gun-walking scandal.
"There is no proof that our elections are marred by in-person voter fraud," said Holder in a recent interview with NBC Nightly News where he described voter I.D. laws as a "solution in search of a problem."
"Solutions that have been proposed go to things that do not exist, or go to a problem that does not exist," says Holder in the O'Keefe video.
New York Magazine's Dan Amira believes that, despite O'Keefe's damning video, the evidence still suggests that while it is theoretically possible for hundreds of thousands of fraudulent voters to influence the outcome of an election, "it has never happened."
There are a lot of disruptive things that people are capable of doing that they nevertheless don't do, and which we consequently don't need to freak out about. Someone could, hypothetically, go to a local supermarket and lick all the apples, just to savor the essence of apple without coughing up 30 cents. That doesn't mean we should lock up all the apples behind a plexiglass barrier.
O'Keefe's video is the latest in a string of effective undercover videos. His 2009 sting of an Association of Community Organizations for Reform Now (ACORN) operation providing assistance to O'Keefe, who had positioned himself as a pimp prostituting an underage girl, in filing for federal assistance is credited with forcing the organization into bankruptcy.
Watch the video below via Breitbart.com:
h/t Breitbart.com
Have a tip we should know? tips@mediaite.com