Jewish Women With Star of David Rainbow Flags Banned from Chicago Pride March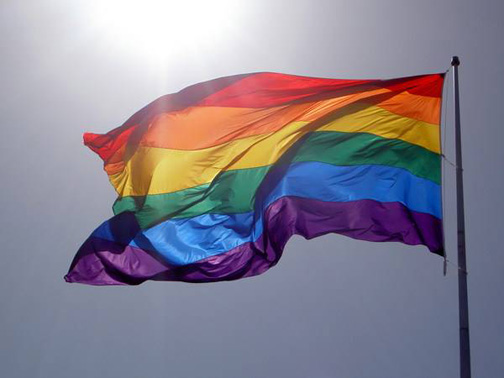 Three women were told to leave LGBT Pride festivities in Chicago on Saturday because their rainbow flags had the Star of David on them.
According to Chicago's LGBT paper Windy City Times, the women were told by the organizers of the 21st annual Chicago Dyke March that their flags "made people feel unsafe."
Laurie Grauer, one of the women asked to leave, told the Windy City Times that she received her flag from her congregation that "celebrates [her] queer, Jewish identity" and that she had marched with it at the parade for over a decade.
The organizers of the march, which is separate from Chicago's Pride Parade, defended their decision by issuing this statement on Twitter, declaring that the Jewish star on the rainbow flag solely represented the nation of Israel, not the symbol for Judaism.
Dyke March organizer explains the group's decision to expel Jews from Chicago Pride parade. https://t.co/9mgKhbXNig pic.twitter.com/8XYs109bUP

— John-Paul Pagano (@johnpaulpagano) June 25, 2017
"Some folks say they are Jewish Pride flags. But as a collective, we are very much Pro-Palestine, and when we see these flags we know a lot of folks who are under attack by Israel see the visuals of the flag as a threat, so we don't want anything in the [Dyke March] space that can inadvertently or advertently express Zionism," they stated.
Grauer, while a proud supporter of Israel, also believes in a two-state solution and an independent Palestine. "It's hard to swallow the idea of inclusion when you are excluding people from that." she added. "People are saying 'You can be gay but not in this way.' We do not feel welcomed. We do not feel included."
Eleanor Shoshany-Anderson, an Iranian Jew who was also asked to leave, echoed a similar sentiment.
"I was here as a proud Jew in all of my identities," she told the Chicago publication. "The Dyke March is supposed to be intersectional. I don't know why my identity is excluded from that. I fell that, as a Jew, I am not welcome here."
Amy Stoken, the director of the American Jewish Committee Chicago, expressed outrage over the incident.
"An annual march celebrating inclusion and acceptance was hijacked… by those who believe Jews do not belong to the LGBTQ community," she said. "Shame on the organizers of the Dyke March for not ensuring Jewish marchers can participate as freely as any other participant."
Israel, the Jewish state that these march organizers view as oppressors, is known for hosting one of the largest gay pride parades in the world.
Have a tip we should know? tips@mediaite.com