Jindal's Rousing Endorsement of Trump: Electing Him Would Be 'Second-Worst' Option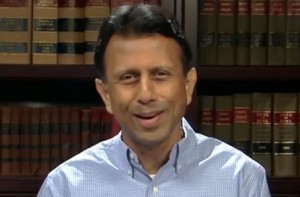 Remember when Bobby Jindal was one of Donald Trump's fiercest critics? He very specifically declared at a debate, "Let's elect a conservative to the White House, not just any Republican."
When he was still running for president, he was engaged in flat-out mockery of everything Trump, saying the GOP cannot nominate him and swiping at Ted Cruz for leeching onto Trump.
Well, now Jindal is supporting Trump, but only because, he argues, the stakes are too high and the nation can't afford Hillary Clinton.
Yes, Jindal's rousing endorsement of Trump contains the following amazingly pro-Trump passages:
I was one of the earliest and loudest critics of Mr. Trump. I mocked his appearance, demeanor, ideology and ego in the strongest language I have ever used to publicly criticize anyone in politics. I worked harder than most, with little apparent effect, to stop his ascendancy. I have not experienced a sudden epiphany and am not here to detail an evolution in my perspective.
Donald Trump will have the hardest time of any of the Republican candidates in winning. He has stubbornly stuck to the same outlandish behavior and tactics that have served him so well to date.
I think electing Donald Trump would be the second-worst thing we could do this November… I am not pretending that Mr. Trump has suddenly become a conservative champion or even a reliable Republican: He is completely unpredictable.
Mr. Trump might not support a constitutionalist conservative focused on original intent and limits on the court's powers. He may be more likely to appoint Judge Judy.
I do not pretend Donald Trump is the Reaganesque leader we so desperately need, but he is certainly the better of two bad choices. Hardly an inspiring slogan, I know.
Ya think?
You can read Jindal's full WSJ op-ed here.
[image via screengrab]
— —
Follow Josh Feldman on Twitter: @feldmaniac
Have a tip we should know? tips@mediaite.com
Josh Feldman - Senior Editor