Joe Biden Ripped After Story on Nonconsensual Kiss: 'Absolutely Disqualifying'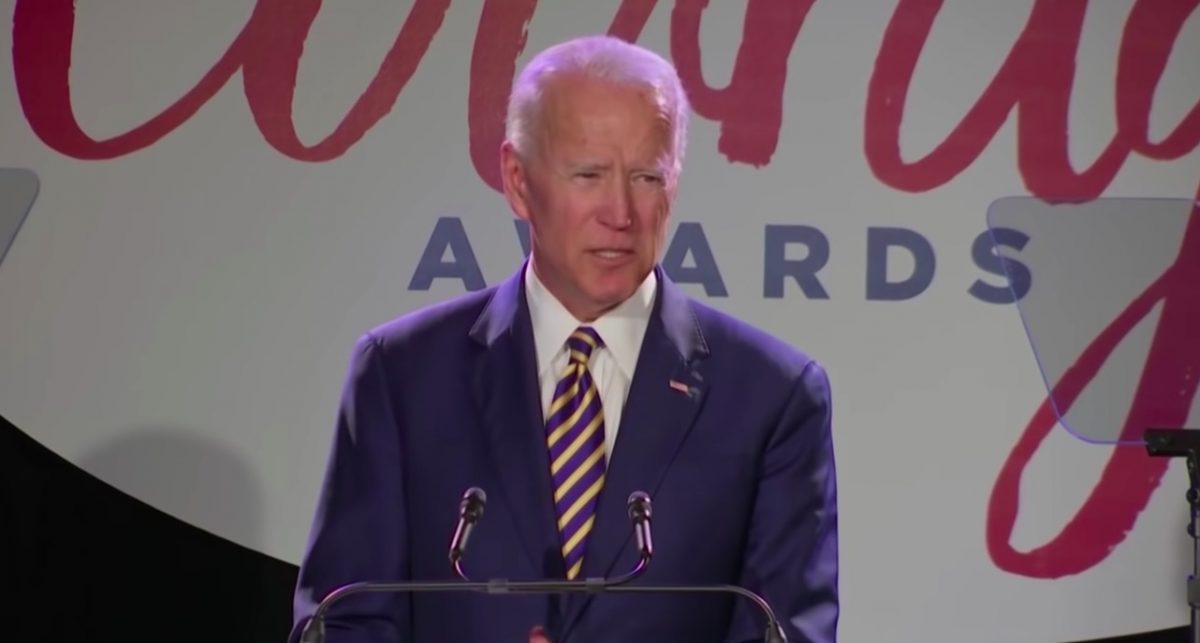 Progressive activist and former Nevada assemblywoman Lucy Flores accused former Vice President Joe Biden of inappropriately touching her and kissing her head during a 2014 campaign event for her run for Nevada lieutenant governor.
This was an incredibly difficult thing to do, but something that felt necessary. It took awhile before I found the words and the support that made me feel like this was finally a story I could tell. https://t.co/Sr5Go3xuTe

— Lucy Flores (@LucyFlores) March 29, 2019
In a first-person story for The Cut, Flores wrote the incident, which took place while Biden was VP, began when Biden grabbed her shoulders as they waited backstage to go speak at the event.
"I felt him get closer to me from behind. He leaned further in and inhaled my hair," she wrote.
"I was mortified. I thought to myself, 'I didn't wash my hair today and the vice-president of the United States is smelling it," Flores continued. "And also, what in the actual fuck? Why is the vice-president of the United States smelling my hair?' He proceeded to plant a big slow kiss on the back of my head."
Pundits and journalist reacted to the news by noting that the disturbing story was not surprising, given that videos of Biden's creepy public conduct have already gone viral. Others predicted many more will come if he chooses to run in the 2020 Democratic primary — where he is currently polling ahead of the pack.
Check out a few of the reactions below:
Someone who actually knows and cares about Joe Biden has to see that running will wreck his reputation right?

— Matthew Yglesias (@mattyglesias) March 29, 2019
I bet Biden won't run. He wont want issues like this to besmirch his career. https://t.co/PDSgbFX0RO

— Ari Fleischer (@AriFleischer) March 29, 2019
Biden has a public history of uncomfortable/inappropriate/ problematic touching and hugging and kissing. It's been caught on cameras. We've all seen it. And stories like these will pop up during a campaign, should he choose to run. https://t.co/wCo5gwLVqA

— Sam Stein (@samstein) March 29, 2019
also, this wasn't some ancient history. it was in 2014, when Biden was 71. almost certainly hundreds of these incidents. absolutely disqualifying

— ryan cooper (@ryanlcooper) March 29, 2019
Wow – this piece by Lucy Flores speaking up about Biden's creepy behavior. https://t.co/wMY6GSH5aa Seems like there will be so many more stories like this. Fits into the piece I did in 2017 on why Biden is a bad choice for Dems in this MeToo era https://t.co/D3z0esSyST

— Amanda Terkel (@aterkel) March 29, 2019
Mark my words: @JoeBiden is done before he even gets started. He is a relic of 20th century in a world that needs something radically new… "Why is the vice-president of the United States touching me?" https://t.co/BjasF5Bl48

— Nick Gillespie (@nickgillespie) March 29, 2019
Trouble begins for Biden. This will almost certainly not be a "one-and-done" story. https://t.co/0oDK8qP3Cj

— Niall Stanage (@NiallStanage) March 29, 2019
This is deeply horrifying and extremely credible based on everything we've ever heard or seen from Joe Biden with our own eyes. He cannot run. https://t.co/gz3ilt4XNC

— Kaitlin Menza (@heykmenz) March 29, 2019
reminder: joe biden is a creepy inappropriate asshole https://t.co/kqM6hGBX5l

— adrian crawford (@Crawf33) March 29, 2019
"As I was taking deep breaths and preparing myself to make my case to the crowd, I felt two hands on my shoulders. I froze. 'Why is the vice-president of the United States touching me?'"

A jaw-dropping read about @JoeBiden: https://t.co/2fpcuNo7Va

— Gregory T. Angelo (@gregorytangelo) March 29, 2019
[image via screengrab]
Have a tip we should know? tips@mediaite.com