Joe Rogan and Dan Savage Wonder Why Anti-Gay Leaders Keep Getting 'Caught with Dicks'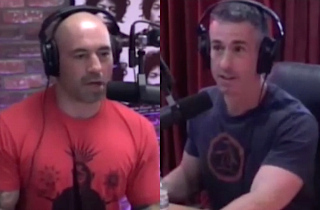 Columnist and gay rights activist Dan Savage joined comedian Joe Rogan on his popular podcast this week, and while he was there he took some time to break down the motives of those who lead the anti-gay movement in America. Savage suspected, and Rogan agreed, than anyone fighting that hard against the LGBT community may be suppressing their own homosexual identity.
Savage began by looking at Rep. Michele Bachmann's husband, Marcus Bachmann, who has practiced so-called "ex-gay" therapy. He described Bachmann as "gayer sound asleep on the sofa than I am with my dick in my husband's ass" before admitting, "I don't know if he's actually gay or not, but he certainly plays one on TV."
"There's a lot of rage that fuels the antigay movement, and it's peopled by the people who say being gay is a choice, that sexual orientation is a choice, because they chose not to be gay," Savage continued. "They chose not to come out and identify as gay — they are gay. And they keep getting outed."
"All these people who are prominent in the antigay right and in the ex-gay movement itself who get caught with dicks," he added. Savage went on to say he hopes that being "rabidly homophobic" becomes widely associated with being gay. Then kids who don't want people to think they are gay might stop acting so anti-gay.
Agreeing with Savage's point, Rogan shared a joke from his stand-up act in which he says there are two reasons people opposed same-sex marriage: "You're either really dumb, or you're secretly worried that dicks are delicious."
Finally, Savage went after Texas Governor Rick Perry for comparing being gay to being an alcoholic. If someone were to ask Perry if he is gay, Savage predicted the answer would be, "No, I have a couple of dicks before dinner, but I'm not gay or anything."
Watch video below, via The Joe Rogan Experience:
[h/t Raw Story]
[Photo via screengrab]
— —
>> Follow Matt Wilstein (@TheMattWilstein) on Twitter
Have a tip we should know? tips@mediaite.com