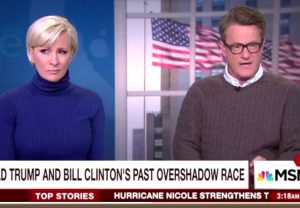 MSNBC's Joe Scarborough expressed his skepticism about the timing of the deluge of women coming forward to accuse Donald Trump of sexual misconduct. He clarified that he was "not skeptical of the women's stories" — just the "timing."
"I'm skeptical about the timing of all of this," the host said Thursday. "Talk about an October surprise. When again, as you said, there have been a thousand triggering events that would have made sense. If I had been sexually harassed by this man […] there have been a thousand of these reports already. I'm just asking why suddenly all of this stuff is blowing up in October."
Wednesday evening saw multiple reports of women going on the record to describe unwanted encounters with Trump, some decades old, including one in the New York Times, another in the Palm Beach Post, and a People writer's personal account of Trump "forcing his tongue down my throat" while she was in Florida writing a story on him. Trump denied all accusations and threatened legal action against the Times and Post.
The "timing" is not as curious as Scarborough makes it out to be. In each of these cases, the women said what compelled them to come forward was the recent disclosure of 2005 audio of Trump talking about grabbing women by their genitals and kissing them without consent. He subsequently claimed it was merely "locker room talk," and at the presidential debate Sunday, he fervently denied that he was anything more than talk.
"Perhaps this is all innocent," Scarborough continued. "Perhaps there is no oppo drop," referring to opposition research. "Perhaps it's not coordinated."
"We need to remain skeptical," he added.
—
Sam Reisman (@thericeman) is a staff editor at Mediaite.
Have a tip we should know? tips@mediaite.com