John McCain Torpedoed Trump's Attempt to Get Federal Aid For Luxury Housing in 1996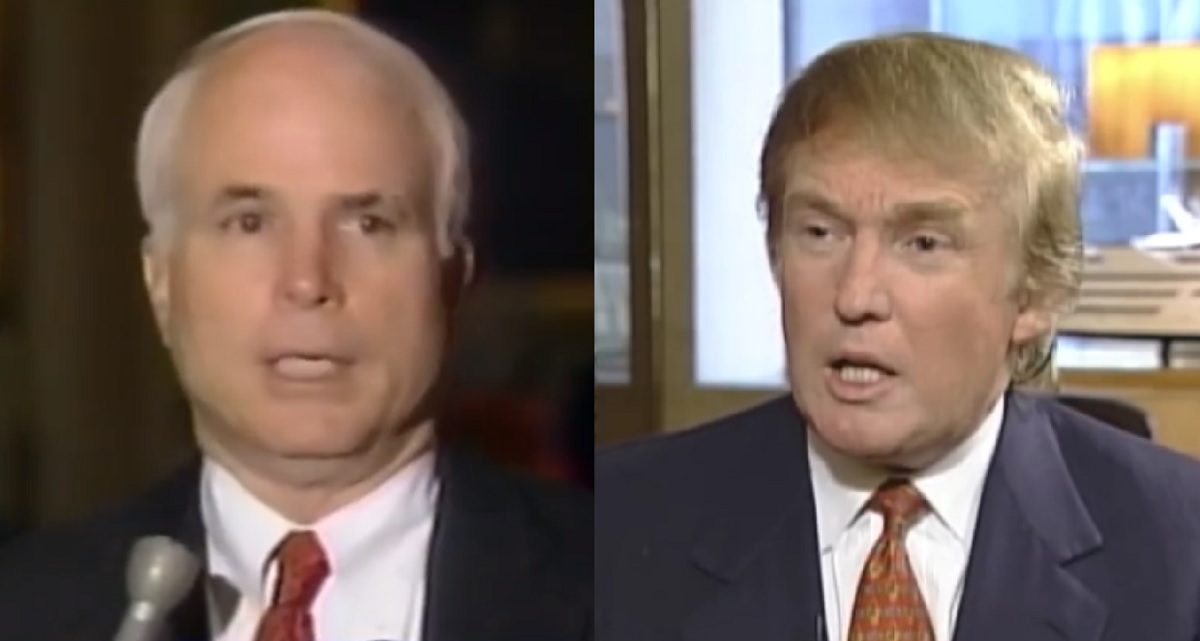 The animus that fuels Donald Trump's still-escalating attacks on the late Senator John McCain may have originated not with political differences, but with McCain's interference in Trump's pursuit of millions in federal assistance for a project that McCain said would "predominantly benefit upper income Americans."
Trump's attacks this week (so far) culminated in a five-minute rant during which he falsely claimed that he had "approved" McCain's funeral, complained that he hadn't been thanked for the gesture, and even took credit for a piece of legislation that was literally named after McCain.
But Trump's hostility toward McCain goes back long before he infamously attacked the former prisoner of war's military service during the 2016 presidential campaign by saying McCain was "a war hero cause he was captured. I like people that weren't captured."
He made a similar attack in 1999, telling Dan Rather McCain "was captured. Does being captured make you a hero? I don't know. I'm not sure."
Three years before that, though, it was John McCain who took aim at Trump over the then-real estate developer's application for federal mortgage guarantees. In a statement that was submitted for the record on McCain's behalf, the then-senator singled Trump out while submitting an amendment to an appropriations bill.
In the statement, McCain noted that HUD "is processing an application from a team of developers, headed by the venerable Donald Trump, to obtain Federal Housing Authority mortgage guarantees for their luxury apartment development in Manhattan known as Riverside South."
"The HUD program to which Mr. Trump and his associates are applying for assistance is intended to promote development within urban renewal areas," McCain continued. "To help qualify for the aid, Mr. Trump's group has pledged to reserve 20 percent of the units for low- and moderate-income residents."
"The issuance of the Federal mortgage guarantee and the 20 percent low-income reserve will entitle Mr. Trump and his partners to a vast array of municipal tax benefits, which one group calculates to be in the range of nearly $4.5 million per 'needy' individual assisted–not exactly what most Americans would consider cost-effective use of Government assistance," McCain wrote.
"I certainly have nothing against luxury apartments nor do I have anything against very successful project developers, including Mr. Trump," McCain said. "I do object, however, to asking the taxpayer to bear the risk of a development for one of the wealthiest entrepreneurs in the country, to help finance a project that will predominantly benefit upper income Americans."
He noted that if Trump's proposal were approved, "taxpayers will be on the hook for over $350 million," and that those taxpayers "will take this enormous risk–the largest ever in the history of the program–to help provide housing, in some instances, for people who earn an annual income of over $200,000 per year."
McCain went on to say that "the Donald Trumps of the world can more than afford to bear the risk of their endeavors, and should not be indemnified with taxpayer dollars."
The amendment that McCain proposed was approved unanimously, via voice vote.
A lot has changed since the nineties, but Trump is still attacking John McCain, and Trump still can't get Congress to give him money to build what he wants.
Have a tip we should know? tips@mediaite.com