Josh Duggar Reportedly Sued Arkansas Human Services After They Investigated Molestation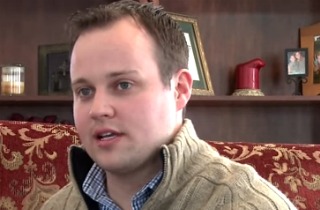 A new report into the Josh Duggar molestation scandal reveals that at one point, he attempted to sue the Arkansas Department of Human Services (DHS) after they investigated his crimes.
Duggar, the former executive director of the Family Research Council's lobbying arm and one of the 19 Kids and Counting Duggars, recently stepped down from his position after admitting that he molested several underage girls, some of them likely his own sisters, when he was a teenager. The family immediately doubled down and asked the public for forgiveness, and so far, they haven't received it: TLD pulled a 19 Kids marathon after a public outcry, dozens of people have unearthed numerous statements from the family indicating hypocrisy, and advertisers have dropped the show from their buys.
Initially, when the incidents were reported to Arkansas authorities in 2005, the Families in Need of Services agency and the DHS were brought into the case. Duggar was never prosecuted due to a number of factors, and later, he filed a lawsuit against the DHS. According to In Touch, the results of the trial were sealed, but a source familiar with the investigation noted that Duggar "likely" appealed their initial decision or punishment:
The source notes that DHS had the authority to apply "restrictions or stipulations about him being at home with the victims.

"Josh would be considered an in-home offender, giving DHS the authority to do an investigation. As part of your appeal rights you can request a DHS hearing to challenge what they found and their ruling."
The actions taken against Duggar after the alleged molestation are receiving just as much scrutiny as the actual molestations themselves: the state trooper involved in the initial report never followed up with the investigation, and was later sentenced to 56 years in prison on child pornography charges. The report itself was ordered to be destroyed, but a copy survived.
[Image via screenshot/TLC]
— —
>> Follow Tina Nguyen (@Tina_Nguyen) on Twitter
Have a tip we should know? tips@mediaite.com