Judd Apatow: Haters of the All-Women Ghostbusters Revival Are Probably Trump Supporters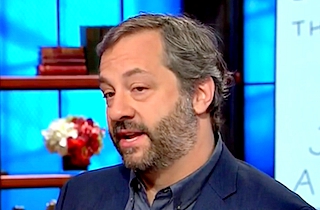 There's been a lot of commotion lately about the new Ghostbusters film, and comedy filmmaker Judd Apatow says there's a high probability that all the hate is connected to Donald Trump's voter base.
The cult classic movie is getting a reboot next month, and people have flocked the Internet with posts about how the original is too sacred to be touched. Some of the most prominent backlash has come from all the "meninists" who've complained about the fact that women have taken on the film's main roles.
Apatow was asked about his take on all the hate when he gave an interview to Uproxx about his film Popster: Never Stop Never Stopping. Apatow has worked with the reboot's director Paul Feig in the past, and his response was that people are paying too much attention to "idiots" who don't even want to give the film a chance.
I would assume there's a very large crossover of people who are doubtful Ghostbusters will be great and people excited about the Donald Trump candidacy. I would assume they are the exact same people. That movie is made by the great Paul Feig and stars the funniest people on Earth, so I couldn't be more excited. I think people have paid too much attention to just some angry trolls. And it will be judged on its own greatness. I don't think anything really matters the way you think it does. The movie comes out, and it will be great, and people will just be happy to have it. It's not like anybody really cares about a couple of idiots who hold onto the idea that things never evolve. I always think, you know, we have our past and if you can come up with a new, cool way to do something, then that's exciting and hopefully it will make a lot of people happy.
Melissa McCarthy, who stars in the film, has mostly shrugged things off by saying the critics are trolls looking for something to hate on the Internet.
[Image via screengrab]
— —
>> Follow Ken Meyer (@KenMeyer91) on Twitter
Have a tip we should know? tips@mediaite.com