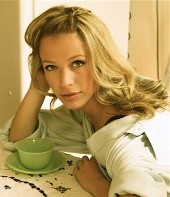 NonSociety is once again a trio – replacing departed original third partner Mary Rambin with newcomer Jordan Reid. Reid joins original NonSociety founders Julia Allison (the "dating columnist") and Meghan Asha (the "Geekette") as their new "Domestic Bliss" contributor and will lifestream accordingly at jordan.nonsociety.com.
Rambin bowed out of the personality-driven lifestyle startup earlier this year (consensus from all parties: amicably) to move to L.A. and start her own site, More than Mary, but remains a co-host with Allison and Asha for their web series TMI Weekly.
So: Who is Jordan Reid, and why should you care about her? NonSociety readers are familiar with Reid, who cropped up on Allison's blog in May when they met at a party, and has remained as a fixture since. Readers know that Reid, 27, is a Harvard-educated former actress who was recently married, has tattoos, also has a shih-tzu puppy and can cook chicken; Google knows that her full name is Jordan Reid Berkow (she has gone by variations thereof), has appeared on Law & Order and was part of the original gang who created It's Always Sunny in Philadelphia, and played Sweet Dee in the original, shot-for-$500 version of the pilot. (Also, Craigslist knows that she was looking for an intern, which means Reblogging Nonsociety knew she was the new contributor before all of us.)
All of this will come into Reid's lifecast, which is billed as "Domestic Bliss Done Differently" but which will be personality-driven like the rest of NonSociety. The official press release is light on details of Reid's qualifications, because they are not, themselves official. Her quote:
"Am I a chef? No. An interior designer? Hardly. I consider myself a somewhat talented amateur in these arenas, and for me this lifecast is an exciting journey and an on-going learning process. I'm hoping my readers will benefit from seeing someone just like them who is unafraid to try…well, just about anything."
This will probably get the NonSociety haters out in droves – surprise, surprise, another girl who looks pretty in pictures and thinks she's an "expert" – but a quick survey of her beta-content shows that she won't be so easily dismissed. She's an easy writer, with unpretentious tastes, practical advice, recipes and good suggestions, and cheerful about DIY projects. (Disclaimer: I know nothing about cooking, but she does seem to know what she's doing.)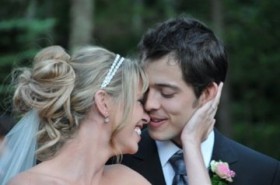 She's also incorporating an interesting new area into the home-decor-cooking-lifestyle arena: Marriage. Reid's blog, which goes back a full month, is filled with her husband, indie musician Kendrick Strauch, and part of her 'expertise' will focus on "advice for couples in committed relationships." (This is an area of expertise that has, shall we say, not been showcased on NonSociety thus far!).
This is how Allison pitches it in the press release: "Jordan is what would happen if a Harvard-educated, twenty-something Martha-Stewart-in-training married a rocker, rode a motorcycle, and refused to wear any skirt that hit below mid-thigh." And there you have it: The package, ready-made, to fill a gaping hole that exists in the demo below Martha, Rachael Ray, Nigella and Julie & Julia, morning-show and red-carpet ready. And in the meantime, it will be hard to argue that she's not walking the walk with her content. In fact, it may soon be hard to dismiss NonSociety at all; Reid could be the servicey, down-to-earth ingredient that the site has been missing — while still, of course, posting many pictures of herself looking fabulous.
Speaking of Reblogging Nonsociety, it actually just rightly noted that I am a friend of Allison, the site's founder; however, I met Reid for the first time two days ago to hear about the project. She spoke in detail about home renovation, her former job as the administrator for a law firm, and wore fishnets. Allison beamed at her newest hire, uncharacteristically letting her do most of the talking, and suggested a good reason to be optimistic about her success: "All the mistakes that I made, we're not gonna make with her. "
Related:
Introductory Post: Jordan Reid [NonSociety]
The Day I Quit [NonSociety]
Lucy, The One-Eyed Shih-Tzu [NonSociety]
It's Official: Jordan Berkhow Is The New NonSociety Contributor [Reblogging NonSociety]
Reid's Law & Order clip:

Have a tip we should know? tips@mediaite.com