Justice Sotomayor Doesn't Believe SCOTUS Will Ever Be Diverse Enough to Look Just Like America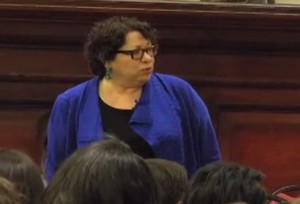 The Supreme Court is playing a very big role in this year's election because the person who is selected for the presidency will appoint a nominee to take Justice Antonin Scalia's place on the bench. (Never mind that President Barack Obama nominated Merrick Garland months ago.) The person who gets appointed to the court will have a major impact on the decisions made for a generation.
Justices Elena Kagan and Sonia Sotomayor have been speaking out about the vacancy and the job in general for a few days now. One issue that they've repeatedly mentioned is one that has been weighing on the minds of voters: The Justices, though there are eight of them, are not exactly diverse. They're all Ivy League-educated, all but one of them are from one of the coasts, and none are Protestant.
In a piece rounding up the various statements made by Kagan and Sotomayor, the New York Times made note of all of these traits and their associated lack of diversity, then quoted Sotomayor as saying this:
The Supreme Court is never going to be a melting pot reflective of the country. In most of our lifetimes, the court is only going to turn over one full circle.
Still, they both agree that the vacancy needs to be filled right away, so the diversity of the court will need to wait another round or so, if it is even ever expanded at all. Sotomayor explained, "There's a few cases where you can see we ruled very, very, very narrowly, and it doesn't take a genius to figure out why."
[image via screengrab]
Have a tip we should know? tips@mediaite.com