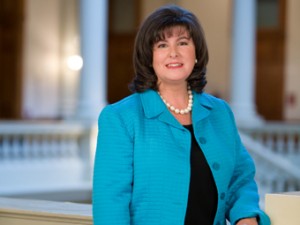 Karen Handel — a controversial figure throughout the debate on Susan G. Komen's decision to pull funding from Planned Parenthood's breast cancer screening services — has offered her resignation today.
Handel had been named senior vice president of public policy at the foundation in April 2011. In 2010, she had launched a gubernatorial run in Georgia, at which time she had been open about her pro-life views, specifically calling out Planned Parenthood for being an abortion provider.
RELATED: Susan G. Komen Founder Tells Shocked And 'Anger'(ed) Andrea Mitchell, They Didn't De-Fund Planned Parenthood
Here's an excerpt from Handel's resignation letter, the rest of which can be viewed here:
We can all agree that this is a challenging and deeply unsettling situation for all involved in the fight against breast cancer. However, Komen's decision to change its granting strategy and exit the controversy surrounding Planned Parenthood and its grants was fully vetted by every appropriate level within the organization. At the November Board meeting, the Board received a detailed review of the new model and related criteria. As you will recall, the Board specifically discussed various issues, including the need to protect our mission by ensuring we were not distracted or negatively affected by any other organization's real or perceived challenges. No objections were made to moving forward.

I am deeply disappointed by the gross mischaracterizations of the strategy, its rationale, and my involvement in it. I openly acknowledge my role in the matter and continue to believe our decision was the best one for Komen's future and the women we serve. However, the decision to update our granting model was made before I joined Komen, and the controversy related to Planned Parenthood has long been a concern to the organization. Neither the decision nor the changes themselves were based on anyone's political beliefs or ideology. Rather, both were based on Komen's mission and how to better serve women, as well as a realization of the need to distance Komen from controversy. I believe that Komen, like any other nonprofit organization, has the right and the responsibility to set criteria and highest standards for how and to whom it grants.
RELATED: Susan G. Komen Apologizes, Restores Planned Parenthood Funding
Watch Fox News break the story below:
Have a tip we should know? tips@mediaite.com