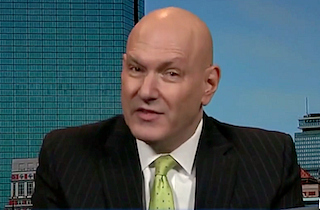 In an op-ed for FoxNews.com, Keith Ablow defended presidential candidate Ben Carson's controversial linking gun control to the Holocaust… only to turn that argument up to eleven.
Ablow readily agreed with the Anti-Defamation League that there weren't enough guns owned by Jews in Germany to challenge the Nazis. But Ablow argues, "The mindset that Jews surrendered with their guns is far more important than the hardware they turned over: They surrendered the demonstrated intention, at all costs, to resist being deprived of liberty."
"If Jews in Germany had more actively resisted the Nazi party or the Nazi regime and had diagnosed it as a malignant and deadly cancer from the start, there would, indeed, have been a chance for the people of that country and the world to be moved to action by their bold refusal to be enslaved," he argued.
Ablow admits that "hindsight is 20/20," but continued to argue "it was a bad idea for any Jew to have turned over a gun. It was a bad idea for any Jew to have boarded a train. It was a bad idea for any Jew to have passed through a gate into a camp. It was a bad idea for any Jew to not attempt to crush the skull or scratch out the eyes of any Nazi who turned his back for one moment."
"And every bullet that would have been fired into a Nazi coming to a doorway to confiscate a gun from a Jew would have been a sacred bullet," he writes. "To me, [National Director of the Anti-Defamation League] Jonathan Greenblatt seems to have forgotten those iconic words, 'Never Again.' Thank God that men like Ben Carson remind us of them."
[Image via screengrab]
——
>>Follow Alex Griswold (@HashtagGriswold) on Twitter
Have a tip we should know? tips@mediaite.com