Keith Ellison Says He Rejects 'Fox News Dichotomy' of What Democrats' Focus Should Be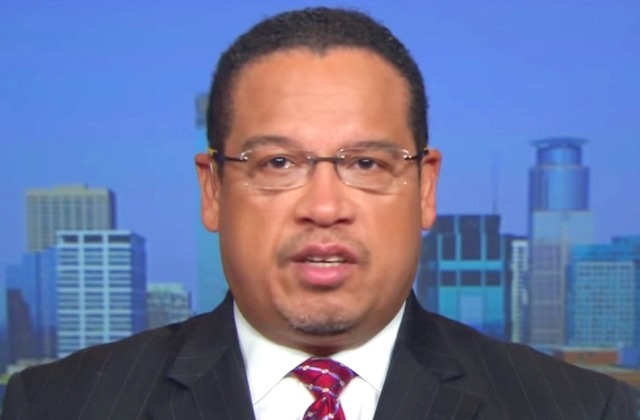 Congressman and DNC Deputy Chair Keith Ellison spoke with Vanity Fair for an interview out yesterday, and he discussed what he thinks the next moves for the Democratic party should be in the Trump era.
Reporter Maya Kosoff brought up the "apparent identity crisis" in the Democratic party––the idea that the party needs to either focus more on matters of social justice or economic issues. She asked if that's a "false dichotomy."
Ellison responded, "It's a Fox News dichotomy."
He elaborated:
The truth is, white working people need civil rights and inclusion, and people of color need economic inclusion. At the end of the day, white people want to be treated with respect and fairness, just as people of color have been fighting for for centuries. To imply that people of color don't have economic concerns is crazy. What we have to do is build solidarity. We have to show people, whether they're in Southern Appalachia or Detroit, Michigan, or Flint, that they may have come over on different ships, but they're on the same boat now. We've got to show them their similarity. In their diversity, they're actually quite unified, in that the economy's not working for either one.
Ellison believes that the party right now is "reconnecting with the roots." Bernie Sanders said this week that the Democrats need to become a grassroots party, while former DNC Chair Debbie Wasserman Schultz said they already are one.
RELATED: Keith Ellison: Obama's Popularity Was 'Fuel That We Lived On' and So We 'Lost a Lot'
When he was asked why President Trump ended up winning more of the female vote than was expected, Ellison said that Trump's economic message likely resonated, though he went on to add this:
But the truth is that he's a charlatan. You might ask: why didn't black and brown women vote for Trump? I think it's true that in America, we're just totally used to people like Trump. We don't think he's for us. We know he's not. I think people of color just look at Trump far more skeptically than a person who grows up in a white working class community. We just think—you know, people of color, we're used to white men doing mean things to us. That may not be politically correct to say but it's demonstrably true and historically accurate.
You can read the full interview here.
[image via screengrab]
— —
Follow Josh Feldman on Twitter: @feldmaniac
Have a tip we should know? tips@mediaite.com
Josh Feldman - Senior Editor