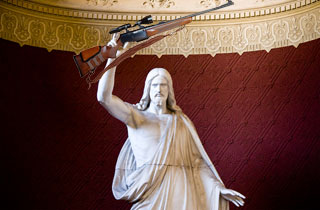 If you are a godless Southern heathen who wants a free steak dinner and an equally free gun, pay heed to the following: A Kentucky Baptist church announced today that they would give away guns and steak to new converts to Christ, as part of a program its spokesman described as "outreach to rednecks." (Those are their words, not ours.)
"Oh boy!" you might think. "Steak and guns are two of my favorite things! But guns are my favorite-est thing of all! How can I get them?" Well, Kentucky Maria Von Trapp, here's what you need to do: find any gun giveaway event held by the Kentucky Baptist Convention, which converted 1,678 men at such events in the past year, and profess your dedication to Christ. It's so simple! So polish up your down-country version of the Nicene Creed — the next event will be held this Thursday at the Lone Oak Baptist Church in Paducah, where 1000 people are expected to attend, and possibly declare their immortal souls to the hands of the Heavenly Father, in exchange for a shiny piece of metal that kills things.
In an interview with USA Today, the KBC's spokesman, an ex-pastor/former Outdoor Channel host/"master storyteller" Chuck McAlister said that gun giveaways are his own version of the classic (but boring) church revival, but tailored to the interests of Kentuckians. "You have to know the hook that will attract people, and hunting is huge in Kentucky," he said, noting that he focuses his sermons on the right to bear arms. "So we get in there and burp and scratch and talk about the right to bear arms and that stuff."
McAlister also has a lot of guns to give away, most donated by local businesses to the cause of evangelism. "We have found that the number of unchurched men who will show up will be in direct proportion to the number of guns you give away," McAlister said. Thankfully, gun raffle winners are required to undergo background checks before actually receiving their free gun. (The article does not mention how many people suddenly decide, when told about these time-consuming background checks, that the Lord is not worth the wait.)
Of course, some killjoy pastors openly question the efficacy of luring people to the Lord with guns, which, frankly, does sound like shooting fish in a — oh, you get it:
"How ironic to use guns to lure men in to hear a message about Jesus, who said, 'Put away the sword,'" said the Rev. Joe Phelps, pastor of Louisville's independent Highland Baptist Church.

"Giveaways for God" seem wrong, he said. "Can you picture Jesus giving away guns, or toasters or raffle tickets? … He gave away bread once, but that was as a sign, not a sales pitch."

Nancy Jo Kemper, pastor of New Union Church in Versailles, Ky., and former director of the Kentucky Council of Churches, said: "Churches should not be encouraging people in their communities to arm themselves against their neighbors, but to love their neighbors, as instructed by Jesus."

"Second Amendment Celebrations" in church make a "travesty" of that message, she said. "How terrible it would be if one of those guns given away at a church were to cause the death of an innocent victim."
We wonder if there are gun enthusiasts who travel to all these events and constantly get re-baptized just to pick up free guns. If you are such a person, please reach out to us — we would love to hear your story. We're serious.
[USA Today]
[Image via Shutterstock]
— —
>> Follow Tina Nguyen (@Tina_Nguyen) on Twitter
Have a tip we should know? tips@mediaite.com