Kickstarter Apologizes For Rape-Encouraging 'Seduction Guide': 'These Things Do Not Belong On Kickstarter'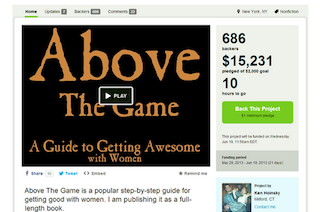 Following a storm of controversy over a "seduction guide" project that seemed to advise men to sexually assault women, self-funding company Kickstarter has apologized, revised its guidelines to exclude similar material, and donated money to an anti-sexual assault foundation.
Background: a man named Ken Hoinsky started a Kickstarter project to raise $2,000 to self-publish Above The Game: A Guide To Getting Awesome With Women. But what appeared as a pick-up guide began to look more sinister when blogger Casey Malone linked the project to a subreddit thread in which Hoinsky posted advice such as, "Don't ask for permission. Be dominant. Force her to rebuff your advances." (Hoinsky has since deleted the posts, but Malone archived them.)
"This guy is no longer just being weird and creepy on the internet," Malone wrote in a post entitled "This Is Not Fucking Harmless." "Now he's writing a book about how to sexually assault women, and he is using something I believe in (Kickstarter) to ask YOU for money to do it."
But Malone only noticed the posts hours before the project's deadline, and Kickstarter did not immediately respond to the blogger's request that the company remove the project.
On Friday afternoon, the company posted a statement to its blog categorically condemning the project, though it conceded that it was too late to stop Hoinsky from collecting money through their site.
"The posts offended a lot of people—us included—and many asked us to cancel the creator's project," Kickstarter said. "We didn't. We were wrong…We had only two hours from when we found out about the material to when the project was ending. We've never acted to remove a project that quickly."
The company also said its processes "bias heavily toward creators," and "this thinking made us miss the forest for the trees."
Kickstarter has removed the project from the site, and revised its guidelines in response:
"Let us be 100% clear: Content promoting or glorifying violence against women or anyone else has always been prohibited from Kickstarter. If a project page contains hateful or abusive material we don't approve it in the first place. If we had seen this material when the project was submitted to Kickstarter (we didn't), it never would have been approved. Kickstarter is committed to a culture of respect.

[…] "We are prohibiting 'seduction guides,' or anything similar, effective immediately. This material encourages misogynistic behavior and is inconsistent with our mission of funding creative works. These things do not belong on Kickstarter."
Last, the company has donated $25,000 to RAINN, an anti-sexual assault organization.
"Very relieved that Kickstarter is stepping up, changing their policies, making a donation and matching their words with their sentiment," Malone posted in response. "I hope whatever harm is done by giving money to Above The Game is counteracted in some way by this donation, this policy change, and this conversation. This is how things should work. People make mistakes, and when other people point them out, people get a chance to fix those mistakes."
Read Kickstarter's statement here.
—
>> Follow Evan McMurry (@evanmcmurry) on Twitter
Have a tip we should know? tips@mediaite.com