Kim Kardashian Only Watches Fox News, But Thinks President Obama Is Doing "A Really Good Job"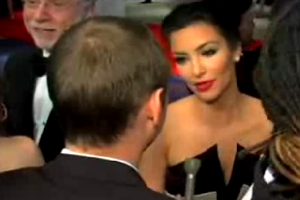 Having achieved nobility status in the reality TV world, Kim Kardashian made her big debut in the political world last weekend at the White House Correspondents' Dinner. A guest of Fox News and Greta Van Susteren, she applauded Fox for being "a very reputable news channel" and confessed it is the only news playing "around the house" when her family gets ready in the morning. And though that may imply certain opinions about the party host, she saved some praise for President Barack Obama, too!
Speaking to CNS News, Kardashian said on Saturday night she was very excited to be part of DC's biggest party and commended Van Susteren for being kind to her in interviews– through which the two developed a rapport which made Kardashian choose the Fox News invitation to the dinner over CBS'. Asked to assess how well the President is doing two years down the road, Kardashian was diplomatic, calling the 2008 presidential election momentous because it was "the first time that every kid in my family voted" and saying that, given the difficulty of the job, she thought President Obama was doing just fine. The interview, via TVNewser, below:

Besides having friends in cable news and a public opinion of President Obama, Kardashian is also in very good standing with the troops in Iraq, who recently sent her a flag flown in her name and corresponding certificate of honor. Those are some pretty strong political credentials– for a reality TV star, anyway. It's not like Mike "The Situation" Sorrentino got his dream date to the White House Correspondents' Dinner.
Have a tip we should know? tips@mediaite.com