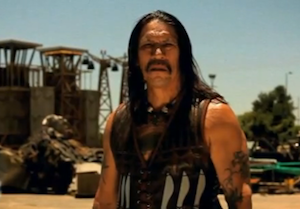 Wow, and here we thought the Phoenix Suns uniforms would be the strangest protest of the Arizona Immigration Bill. Turns out we were wrong as Robert Rodriguez, a director known more for his do-it-yourself filmmaking and friendship with Quentin Tarantino than his politics, has used the release of his eagerly anticipated film Machete to attack the bill. He even went so far as to film an opening with the film's lead, Danny Trejo, in character addressing the entire state of Arizona!
When Rodriguez announced that he was going to turn the fake trailer from he and Tarantino's Grindhouse into a full movie, everyone knew what to expect. We knew it was going to have tons of action, lots of blood, and cheesy dialogue. What most didn't expect, was that Rodriguez would use his idea of making a "Mexploitation movie" to weigh in on the immigration issue. He's incredibly lucky then (if you can call it that) that the Arizona bill has made his movie more timely than he could have possibly imagined. The trailer, posted today on Ain't It Cool News, doesn't beat around the bush connecting the dots to the Bill.
As the trailer opens, Trejo is glowering into the camera. He then addresses the viewer:
"This is Machete with a special Cinco de Mayo message…for Arizona."
It'll be interesting to see, like in the Suns situation, how the fans will react to these overt politics. For us, we're just excited to see Robert De Niro as an evil, southern senator.
(via Ain't It Cool News)
Have a tip we should know? tips@mediaite.com