Larry King's Gulf Disaster Telethon Raises $1.3 Million, Features As Many Celebs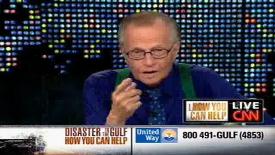 Just like he and CNN did for the Haiti diaster, Larry King hosted a two-hour, star-studded telethon last night that raised $1.3 million for three Gulf Coast charities.
Using Twitter as a vehicle, but mainly the power of celebs from Justin Bieber to NBA champ Ron Artest to Ryan Seacrest, King can count Monday night as a victory as questions about his future remain.
In addition to the celebrities handling the phone bank at CNN live during the telethon, the social media strategy was strong as well.
During the telethon, Larry will check in with Ryan Seacrest, who will be hosting a special "Social Suite" with celebrities such as Alyssa Milano, Pete Wentz, Deepak Chopra, Chelsea Handler, Jenny McCarthy, Tyson Ritter and Edward James Olmos.
It was the "Tweet Suite" for the Haiti special. Either way, King himself is a pretty big force on Twitter, and the show was helped by the involvement of the #11 and #12 most-followed Twitter accounts. Thanks to that, CNN's Audience Interaction Producer Eric Kuhn reported last night, "@RyanSeacrest was the most RTed person (@kingsthings was 4th). #cnnhelpgulf bec a trending topic in 25 min!"
This reach into the social media sphere is something that will not show up in the ratings that come out later this afternoon. Neither will the very significant amount of money raised. But they both are extremely important and note-worthy. Some think this was King's "crowning achievement" – if it is, what does that say of King, the nightly cable news host? Instead, the takeaway will be impact, not the occasional awkward interaction, and in that respect, King and CNN came out with a win.
Here's a taste of the show last night – with appearances by Edward James Olmos, Kathy Griffin and much more:


—–
» Follow Steve Krakauer on Twitter
Have a tip we should know? tips@mediaite.com