Leaked Documents Now Show Tillerson Had Even Closer Ties to Russia Than Previously Thought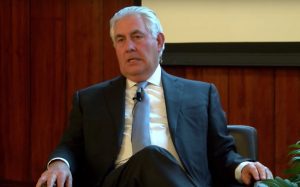 While it's incredibly rare for a Presidential cabinet nomination to be denied by a Senate confirmation hearing — the last one was John G. Tower in 1989 when his bid to be Secretary of Defense was killed in a 53-47 vote — Rex Tillerson is making the case for another tough fight ahead.
President-elect Donald Trump has announced that Tillerson, the ExxonMobil CEO, was tapped to be our nation's next Secretary of State. Immediately, Tillerson's cozy relationship with the Kremlim was brought under intense scrutiny. In addition to running the world's largest oil company (which "for a long time [has] been eyeing Russia's vast oil and gas deposits" writes The Guardian), Tillerson was awarded the Order of Friendship by Vladimir Putin three years ago.
And now, according to leaked documents from 2001 first obtained by the German newspaper Süddeutsche Zeitung, it's being revealed that Tillerson was the long-time director of ExxonMobil's Russian subsidiary Exxon Neftegas based in the Bahamas. His name appears on the official registry from Nassau, Bahamas dated May 22, 2001 as one of the program's three Directors.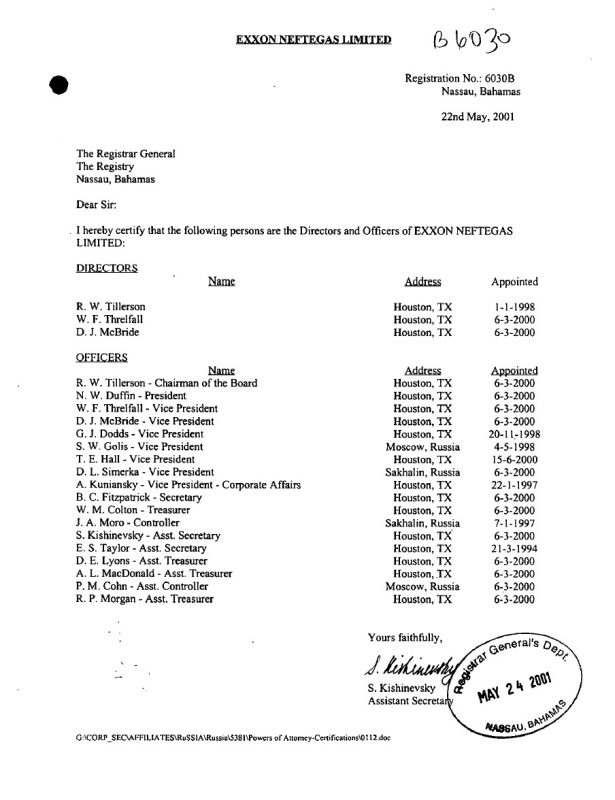 Although the registry itself is public, the director information is usually left out; additionally, Tillerson's involvement with Exxon Neftegas has never before been known, and is just the newest revelation about his past that is bound to complicate his confirmation process. The company said Sunday that Tillerson no longer served in a director capacity after he became CEO in 2006.
Tillerson currently owns Exxon stock valued at about $218 million, and critics are worried that his close ties to the Kremlin could be used to further his own personal business interests. If sanctions against Russia are lifted as many suspect a Trump administration will do, Tillerson only stands to gain even more through a move that would increase the shareholders value. Lawmakers and diplomats on both sides of the aisle have been split in their reaction to Tillerson's nod.
[h/t The Guardian]
Have a tip we should know? tips@mediaite.com