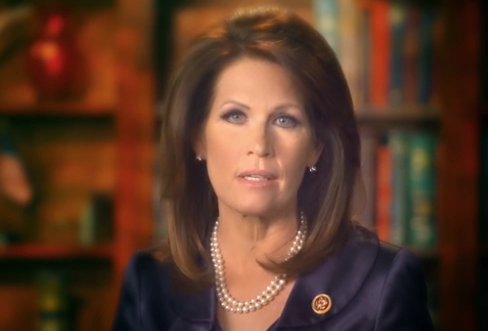 Representative Michele Bachmann (R-MN) is leaving Congress at the end of this term, which means one thing: it's time to rage against the dying of the spotlight.
Considering her history of saying explosive things, how could she possibly top herself? According to BuzzFeed, she's really, really going for it:
"And I have been very surprised, to answer your question, to see the president of the United States, at every turn, cut the legs off of our ally, Israel, and in fact embrace and lift up the agenda of Islamic jihad," Bachmann said on the show Washington Watch hosted by Tony Perkins of the Family Research Council.
Oh boy. Someone clearly got their hands on a WSJ report saying that Barack Obama contacted Iranian leaders offering to help them fight the Islamic State in exchange for renewed talks about their nuclear program. Okay, congresswoman. What else you got?
"Now when in the world — and by that, I mean the goals of the Islamic State, the fact that they want their own state. Our president, we know now, is writing secret notes to the Ayatollah in Iran; there's a recent report that the president is trying to have private meetings with the Ayatollah in Iran. Iran is very clear about their goal — their goal is to have a nuclear weapon. They've said, unequivocally, they will use it against the United States and against Israel."
There's also a part where she calls Obama "condescending," and then a part where she holds him responsible for any nuclear war that occurs. Ah, the sweet sorbet at the end of a multi-course meal.
We're going to try and add an element of profundity here, because her term is coming to an end. Here's to you, Bachmann — and it's scored by Hans Zimmer!

[BuzzFeed]
[Image via screenshot]
—
>> Follow Tina Nguyen (@Tina_Nguyen) on Twitter
Have a tip we should know? tips@mediaite.com