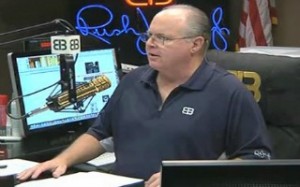 Conservative radio host Rush Limbaugh took House Minority Leader Rep. Nancy Pelosi (D-CA) to task for her official response to House Republican's efforts to hold Attorney General Eric Holder in contempt of Congress. He played a portion of her response and declared that Pelosi should become the "mayor" of the "new planet, 'Stupider.'

RELATED: Rush Limbaugh: Daily Caller Reporter 'Was Heckling Obama's White Half'
Oh his program on Thursday, Limbaugh played a portion of the response by Pelosi to the House Oversight Committee's vote to recommend Holder face a vote to hold him in contempt of Congress.
It's really important to note how this is connected with some of their other decisions. It is no accident, it is no coincidence, that the Attorney General of the United States is the person responsible for making sure that voter suppression does not happen in this country. That issues that relate to the civil liberties of the American people are upheld. These very same people are holding in the contempt are part of a nationwide scheme to suppress the vote.
"We need a new planet," said Limbaugh in response. "We need a new planet called 'Stupider.' And I need to put Nancy Pelosi on it as the mayor of the whole planet."
You know, I knew yesterday that it would take these people a while to come up with explanations – 'well, it's common. Well, it's just a witch hunt.' But I never dreamed – because I can't think this stupidly. I never dreamed that the official Democrat party response would be, that the Republicans intend to cheat in the election and Holder was going to stop them and so Holder has to be stopped because he was going to stop the cheating.
"That is what the mayor of the new planet, 'Stupider,' Nancy Pelosi, said this morning in Washington D.C," said Limbaugh.
"Surrounded by idiocy," Limbaugh laughed. "Everywhere we go, we are surrounded by stupid people who are supposed to be smart."
Listen to the segment below via the Rush Limbaugh radio program:
h/t Daily Rushbo
> >Follow Noah Rothman (@Noah_C_Rothman) on Twitter
Have a tip we should know? tips@mediaite.com