Limbaugh Ridicules Liberal Obama-Fawning: 'We Wilt in the Glow of the Radiation of His Brilliance'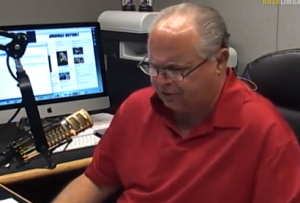 Rush Limbaugh today approached the Obamacare rollout mess from a unique angle: how did this all go so very wrong if President Obama's supposed to be the smarts guy in the room? Limbaugh mocked liberal fawning of Obama's intelligence, echoing sentiments expressed by Peggy Noonan, who wrote in her Washington Post column that Obama and the people around him "act bright" and tweet a lot about policy but they're really just "young people who've seen the movie but not read the book."
Limbaugh took note of the idea that unlike George W. Bush, Obama is just one of the smartest presidents ever, and had some fun with it.
Valerie Jarrett says there hasn't been one time since she's known him that he's been intellectually challenged. He's just so far ahead of us. He's just light years beyond us. We wilt in the glow of the radiation of his brilliance. We can barely even look at it because we would blind ourselves, or some such thing.
But Limbaugh called it a "crock," and argued that people like Obama are easily able to trick others "into thinking that you are refined, elegant, educated, urbane––all of these upper crust, elite descriptions."
On Obamacare, Limbaugh said it's Obama who really wants the status quo, and for "somebody whose intelligence would radiate with such intensity that we would be blinded looking at it," it's remarkable to see "these kinds of errors" popping up all over the place.
Listen to the audio below, via The Rush Limbaugh Show:
[photo via screengrab]
— —
Follow Josh Feldman on Twitter: @feldmaniac
Have a tip we should know? tips@mediaite.com
Josh Feldman - Senior Editor