Listen: Chris Christie Is 'Thrilled' People Ask Him To Run In 2012, He 'Just Doesn't Want To Do It'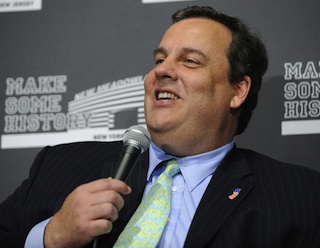 This morning on Philadelphia's 1210 WPHT, host Chris Stigall began his interview with Chris Christie by telling the New Jersey governor that he was an "unabashed fan." While, Jersey liberals and, uh, teachers may disagree, plenty of conservatives share Stigall's Christie-love and hope to see him on the ballot in 2012. Of course, there's one main obstacle. Christie isn't interested.
While Christie has only been in office since January of 2010, the presidential talk has been going for a while, sometimes stoked by the man himself. However, he's also been clear that he doesn't want to run. So eyebrows were raised when it came out that big Iowa donors were meeting with the Governor at the end of May to persuade him to run. However, while Christie will meet with them, he has no intention of changing his mind.
"I'm a kid from Jersey who has people asking him to run for president. I'm thrilled by it," Christie said. "I just don't want to do it."
However, Christie promised to remain "a leader" in the Republican Party. He's helped do this by hosting a number of potential candidates in New Jersey like Mitt Romney and Tim Pawlenty, saying he wants to "really get to know" a candidate before endorsing one. Still some won't be satisfied until his name's on the ballow. Stigall even tried to butter him up by comparing his reluctance to none other than George Washington, all however to no avail.
"I'm not there right now," said Christie.
The full Christie interview begins around the 3:40 mark in the audio clip from CBS Philly below. The 2012 talk begins at 9:30.
Have a tip we should know? tips@mediaite.com