Liz Cheney Mocks GOP'ers Advising Party To Moderate: Either 'Wrongheaded Or Democrats, Or Both'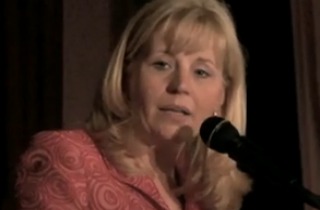 In an op-ed in Friday's Wall Street Journal, Liz Cheney weighs into the internal debate going on within the Republican Party over how to rebound from their losses in 2012. After a series of withering attacks on President Barack Obama's agenda, Cheney turns to the members of the Republican Party who are urging the GOP to moderate some of their positions on social issues. Cheney mocks those who she says are calling on the party to "move left" and dismisses these voices as either "wrongheaded or Democrats, or both."

RELATED: Liz Cheney Disagrees With Father On Palin, Calls Her 'More Qualified Than Obama And Biden'
"President Obama is the most radical man ever to occupy the Oval Office," Cheney writes in her op-ed, Republicans, Get Over the 2012 Loss—and Start Fighting Back.
The president has launched a war on Americans' Second Amendment rights. He has launched a war on religious freedom. He has launched a war on fossil fuels. He is working to nationalize one-sixth of the economy with job-killing ObamaCare. He wants to collect a greater portion of every American paycheck, not for the purpose of paying down the national debt but to expand his governing machine. He doesn't believe in creating a bigger pie with more opportunity for all. He believes in greater redistribution of a much smaller pie. If you're unsure of what this America would look like, Google "Cyprus" or "Greece."
Cheney then turns to Republicans who are engaging in introspection as they try to evaluate what went wrong for the party in 2012 and correct those problems before the 2014 and 2016 cycles.
"Republicans are being counseled to move the party to the left, but in my experience, those who advocate more liberal policies for the GOP are wrongheaded or Democrats, or both," Cheney writes. "You can be sure that President Obama would welcome an America in which the Republican Party is preoccupied with remaking itself into a watered-down version of the Democrats."
Cheney's call to action advises Republicans to remember what they "know" to be true, including the importance of low tax rates, a strong national defense, the exceptional nature of the American experiment, and the importance of the family structure for society.
"We know that preventing this president from enacting devastating policies is not obstructionism. It is patriotism," she concludes.
Read the full op-ed in the Wall Street Journal
> >Follow Noah Rothman (@NoahCRothman) on Twitter
Have a tip we should know? [email protected]