Lt. Gliniewicz's Death Determined a 'Staged Suicide,' Investigators Say He Stole From Police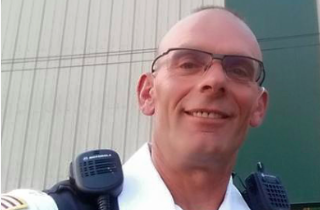 Lieutenant Charles Joseph Gliniewicz became a national discussion point when his death September triggered a full-scale manhunt around Fox Lake, Illinois. Early speculation was that Gliniewicz was murdered while pursuing a group of suspects, but during a press conference from the sheriff's office today, the police stated that his death was actually a "carefully-staged suicide," and that he shot himself with his own gun.
The rumors of murder came during a period of heated discussion about violence against police officers, and his funeral was met with an outpouring of grief from his family and the community. During the Lake County Sheriff's Office's conference, they said that their findings determined that not only was the death a suicide, but that Gliniewicz had been forging signatures on official documents for years, and that he was embezzling and laundering money he took from the police for personal uses.
For years, Gliniewicz helped manage the Fox Lake Police Explorer Post, a program for aspiring teenage police officers, where he allegedly took the funds from. His usage of the money included personal loans, adult website subscriptions, gym memberships, and travel expenses.
Police said that evidence and tips on the incident led to no other plausible conclusions, and that Gliniewicz used his training in order to stage a scene and appear as a hero when he died. They determined that he took his own life due to the stress and scrutiny of his activities, noting that his death occurred after an audit of police funds was launched that potentially could have traced him.
"Gliniewicz committed the ultimate betrayal to the citizens he served and the entire law enforcement community," said George Filenko, commander of the Major Crimes Task Force for Lake County. "The facts of his actions prove he behaved for years in a manner completely contrary to the image he portrayed."
Filenko also said that the ongoing investigation indicates at least two other policemen were involved in criminal activity. Gio Benitez of ABC News posted a series of messages on Twitter, saying they were amongst the indications that led police towards Gliniewicz's criminal activity.
Police release messages they believe show Lt. Gliniewicz was stealing money before alleged suicide.
– @perezreports pic.twitter.com/uHQIIOu037

— Gio Benitez (@GioBenitez) November 4, 2015
[h/t The Daily Beast]
[image via Northwest Herald]
Have a tip we should know? tips@mediaite.com