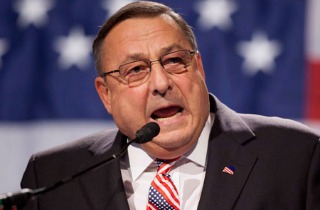 Governor Paul LePage held a press conference today to try out some damage control over comments he made about drug dealers constantly trying to knock up white women in Maine. Not surprisingly, LePage has come under fire from many who believe the comments had racist undertones.
The trouble began when LePage said at a town hall meeting that "guys with the name D-Money, Smoothie" and "Shifty" come from out of state to sell drugs, and they "impregnate a young, white girl before they leave." LePage said today that he didn't know the race of the hypothetical dealers he listed off, and said reporters should "get your heads out of the sands."
"Instead of saying 'Maine women' I said 'white women' and I'm not going to apologize to the Maine women for that," LePage said, because "if you go to Maine, you'll see that we're essentially 95% white."
When the discussion eventually turned to whether he should apologize to African Americans, LePage shot back that just because he used street names doesn't mean he automatically connoted which race they were.
"I get a report, and they're saying his street name 'D-Money,' street name 'Smoothie.' I don't know where they're from," LePage said. "I know where they're from, I don't know if they're white, black, Asian, I don't know. If you want to make it racist, go right ahead and do what you want."
As Huffington Post reported, LePage has a tense relationship with state media, and he slammed reporters for pushing the racial aspect of his comments over his broader calls for action against the heroin epidemic. "You are in the back pocket of the Maine bloggers. Shame on you. Shame, shame, shame," said LePage.
Later in the conference, LePage apologized for potentially using the wrong set of words for women, explaining "my brain was slower than my mouth."
"If I slipped up and used the wrong word, I apologize to Maine women," LePage said.
[h/t Buzzfeed]
[Image via screengrab]
— —
>> Follow Ken Meyer (@KenMeyer91) on Twitter
Have a tip we should know? tips@mediaite.com