Philadelphia Suspect in Cop-Ambush Reportedly Does It in The Name of Islam & ISIS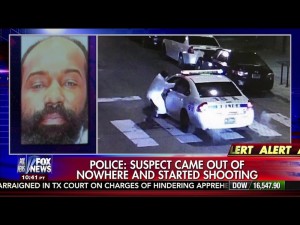 Last night, West Philadelphia police officer Jesse Hartnett was shot at 13 times at close range; he was only struck three times. A suspect has been identified as Edward Archer, a man who claims to have pledged allegiance to the Islamic State. Officer Hartnett survived the attack and pictures of the incident has just been released. In the photos, the suspect can be seen sticking his arm directly through the window of Officer Hartnett's police cruiser.
Archer is currently in custody and, according to a press conference shown on CNN, has made statements that suggest his ambush and attempted murder were motivated by his beliefs. Per Police Chief Richard Ross, Archer carried out his attack with a stolen police weapon that was reported as missing in October of 2013 in accordance with the department's protocol. Further, Archer had a criminal record and wore a bullet-proof vest during the ambush, clearly intending to survive the encounter.
"I can't say enough for his bravery," Ross said of Officer Hartnett. "He is a paragon of excellence in terms of what it means to be a police officer and a warrior when he needs to be."
According to Philadelphia's ABC 6 Action News, the suspect has confessed to the crime of shooting Officer Hartnett, claiming it was done "in the name of Islam." Commissioner Ross still maintains that there is no evidence of conspiracy; it is not known if Archer was acting alone. Further, Ross states that Archer has been diligent about only revealing certain information, not "implicating anyone else" in the attack, and is "not stupid."
"He's leaving a trail for us," Ross said, "but where is he leading us?"
Watch the press conference above via CNN.
[Update: 2:58 p.m.] Following Commissioner Ross urging viewers of the press conference not to jump to conclusions, Philadelphia's new mayor, Jim Kenney, tweeted the following:
Last night's shooting had nothing to do with any faith. It was a violent assault by a criminal. I urge all Philadelphians to stand together.

— Jim Kenney (@PhillyMayor) January 8, 2016
This is Kenney's first major incident as mayor; has been on the job for a week.
[Update: 3:20 p.m.] The mother of suspected shooter Edward Archer, Valerie Holliday, has told The Inquirer that her son has been "hearing voices" and "acting kind of strange lately." His condition, she said, has been deteriorating steadily since sustaining head trauma playing football for a local high school and being in a moped accident a few years later. She stated that he has believed himself to be a police target and "turns to his god" often.
"I just hope he's okay," Holliday said of Officer Hartnett. Then, she said, "I'm still hoping they have the wrong child."
This is a developing story. Please check back regularly, as we will be updating our posts to reflect new information.
Have a tip we should know? tips@mediaite.com