Man Charged with Assault for Allegedly Pulling Gun on 7 Year-old Selling Girl Scout Cookies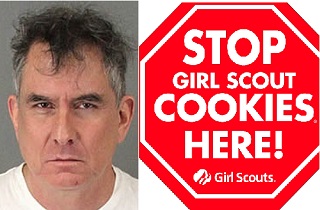 So, that's a "no" on the Samoas?
On Sunday, a Temeculah, California man was arrested for allegedly pulling a shotgun on a 7 year-old Girl Scout who knocked on his door to try and sell him some Girl Scout Cookies. Police arrested 59 year-old John Dodrill on charges of assault with a deadly weapon, seized his weapon, and set bail at $25,000. In court on Wednesday, Dodrill entered a plea of "not guilty" to assault with a deadly weapon.
Here's how the Riverside Sheriff's Department described the incident on Sunday:
On February 2, 2014, officers from the Temecula Police Department responded to the 31000 block of Strawberry Tree Lane, in the city of Temecula in regard to an assault with a deadly weapon. The victim, who is a minor, was going door-to-door selling cookies. When the victim knocked on the suspect's door, he opened the door and pointed a gun at her. The victim's father witnessed the incident and called the police. The suspect was identified as John Dodrill, age 59 of Temecula. Officers took him into custody without incident and seized the weapon as evidence.
Dodrill was in court Wednesday, where he entered a plea, and continued to be held on $25,000 bail. A spokesman for the District Attorney's office gave some more details to the Press-Enterprise:
The girl, pulling a wagon filled with cookies, had walked up to Dodrill's front door and rung the bell while her father waited nearby, said John Hall, a spokesman for the Riverside County district attorney's office. When no one answered, she tried knocking.

Hall said Dodrill opened the door while holding a shotgun at his side, then raised it toward the child as her father looked on.

"He said something to the effect of, 'You should know better than to knock on my door,'" Hall said.

Dodrill then slammed the door shut, Hall said.
The Press-Enterprise said police seized several weapons from Dodrill's home.
California has some of the strictest gun laws in the nation, including a law requiring registration of shotguns that took effect January 1.
[photo via Riverside County Sheriff's Department]
Have a tip we should know? tips@mediaite.com