A tattoo artist, disabled Iraq War veteran, and father of three in North Carolina, Ernesto Rodriguez, is under fire for tattoing his pitbull, Duchess. The incident drew attention after Rodriguez posted a (now removed) photo of Duchess's tattoo on his Facebook page. The tattoo is on five-month-old Duchess's underbelly and Rodriguez claims the symbol is of her bloodline and meant to identify her.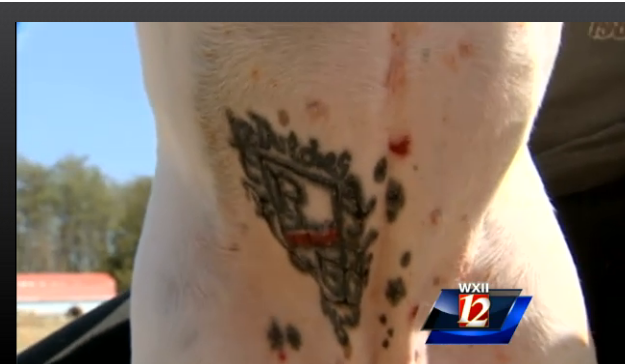 Photo courtesy of www.wxii12.com
The Stokes County Health Department and Animal Control department investigated but filed no charges. Rodriguez was, however, issued a cease-and-desist order for tattoing humans without a proper permit.
Rodriguez told local news media:
"I didn't just plop her on the bed and tattoo her. She was already [on] on anesthetics. She was asleep, completely asleep. And I even used topical anasthetic, too, on top of that, on the skin. So she didn't feel anything. She got up, she's been fine. I love my dogs."
While Rodriguez removed the photo he originally posted on his 'Planet Ink Tattoos' Facebook page, he posted this update: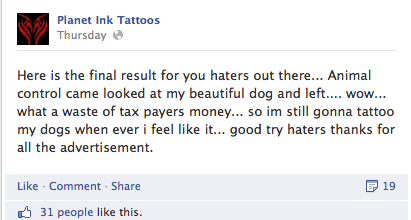 Many continue to express their disappointment, anger, and outrage. While some stated Rodriguez applied anesthesia to his dog illegally, Rodriguez claims the dog was actually anesthetized at the veterinarian's when she was getting her ears cropped: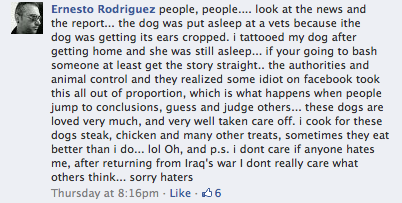 Others are not buying it:
Animal advocate Caleb Scott, of "N.C. Voters for Animal Welfare", is also skeptical, claiming that Rodriguez wrote he was "bored" in his initial Facebook post about the reason behind the tattoo. Scott believes Rodriguez may now be "backpeddling" by saying the tattoo is for identification purposes.
North Carolina's animal welfare statutes define animal cruelty to include "unjustifiable physical pain" and "suffering."
Rodriguez has no regrets and noted he will tattoo his next dog/s. He also claims tattooing pets is not uncommon. While the website Petsclan.com features photos of several tattood pets, Mediaite was unable to find any other such evidence. Last year, The Week posted a piece entitled: "Tattoos… for your dog?" highlighting a new craze — except these were fake, airbrushed tattoos. As the article noted: "Not a real tattoo — imagine getting  a dog to sit through a long session of ink-dipped needing."
Imagine, indeed.
Watch the report from WXII below:
Take our Poll below:
Have a tip we should know? tips@mediaite.com