Mark Levin Calls On 'Weasel,' 'Coward,' 'Hack' GOP Rep. Eric Cantor To Step Down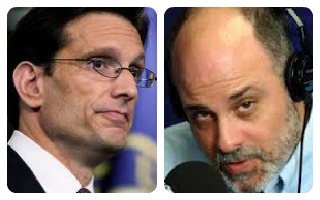 Conservative radio host Mark Levin delivered a no holds barred monologue on Wednesday basting Rep. Eric Cantor (R-VA) for supporting the passage of the Senate version of the Violence Against Women Act (VAWA). He outlined the many troubling and possibly unconstitutional provisions within the law as drafted by the Senate and slammed Cantor in the harshest of terms for being cowed into supporting its passage.

RELATED: MSNBC Host: GOP Leader's 'Dripping Virginia Drawl' Makes Support For Domestic Violence Law 'Unconvincing'
"There's another threat that's been made by that little weasel Eric Cantor," Levin began. "He's no conservative. He's an operator. And [House Speaker John] Boehner better look over his shoulder."
Levin went on to lambaste the Senate version of the VAWA. He said that the VAWA is popular because it has a "cool sounding name," but was first declared unconstitutional in the 1990s by the Supreme Court because it nationalizes penalties for a crime that has no impact on interstate commerce.
Levin went on to slam the new version of the VAWA and lambasted the GOP for being "so scared of being accused of being against women that they will do anything."
"The Senate bill expands coverage to men, homosexuals, transgendered individuals, and prisoners," Levin said reading from an opinion piece by Daniel Horowitz. "It expands the definition of domestic violence to include causing emotional distress or using unpleasant speech.
"It ostensibly nullifies the legal presumption of innocence until proven guilty – this is going to be a disaster," Levin added, breaking from the opinion piece.
He slammed the Senate bill's provisions which allow Native Americans legal jurisdiction over non-Native Americans and provisions which extend visa access to illegal aliens who become victims of domestic violence.
"This is a disastrous law," Levin continued. "It was passed by this left wing, Democrat-controlled Senate, and Eric Cantor is demanding that the conservatives vote for this, and if they don't, there's going to be a civil war."
Levin trashed Cantor for not going on his program. "You're a coward, Eric Cantor," he said. "You're no conservative alternative [to Boehner], you're a hack!"
He concluded by calling on the "phony," "fraud" House Majority Leader to step down.
Listen to the clip below via The Mark Levin Show:
h/t Daily Rushbo
> >Follow Noah Rothman (@NoahCRothman) on Twitter
Have a tip we should know? [email protected]