In seeking to discuss the rebound of the country's housing market, Bloomberg Businessweek became part of its own story today — through its controversial cover. It wasn't long before the magazine was accused of crossing the line with a "racist" portrayal of the issue.
Here's the cover: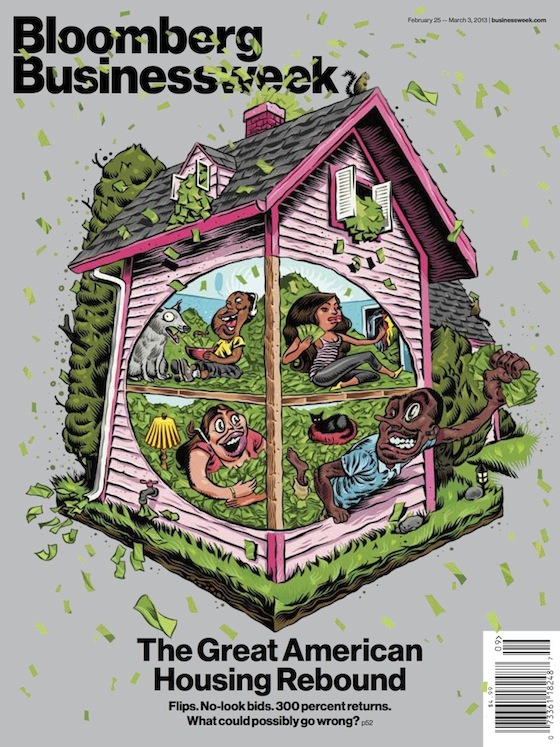 The cover stands out not only for its caricatures of blacks and Hispanics, Ryan Chittum asserted at CJR, but because "there are only people of color in it, grabbing greedily for cash." Questioning how the art made it through the editorial process, Chittum went on to detail the issue he took with the approach, noting that the "narrative of the crash on the right has been the blame-minority-borrowers line, sometimes via dog whistle, often via bullhorn."
The housing bubble did "disproportionately" victimize minorities, he argued, but the magazine "has them on the cover bathing in housing-ATM cash, implying that they're going to create another bubble." That, he said, is not okay.
Along similar lines, Slate's Matthew Yglesias said Businessweek, a "genuinely great" publication, misfired with a "racist" cover, which conveys the message: "We can know things are really getting out of hand since even nonwhite people can get loans these days!" And for that, he said, they "ought to be ashamed."
Adding to the list, the Huffington Post's Jason Linkins dubbed the cover "racist chic" with "vile depictions" of blacks and Hispanics. As Chittum noted, Businessweek hasn't avoided strange or provocative covers in the past… but this one, some are arguing, went too far.
What say you, readers?
Have a tip we should know? tips@mediaite.com