Matt Drudge Gives Incredibly Rare Interview to Alex Jones, Talks Hillary, 'Sick' America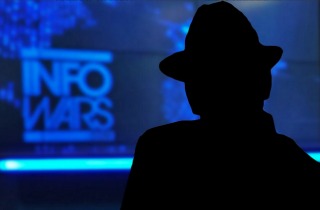 Matt Drudge doesn't exactly do a lot of public interviews, but on Tuesday the Drudge Report scribe actually did an interview with none other than Alex Jones.
Drudge was actually in the studio with Jones, but he didn't appear on camera; instead he stood off-camera holding a mic as Jones asked him questions.
A lot of the interview involved Drudge ranting about social media, corporate control of the internet, and "groupthink" among liberal websites. He touted how independent he's been able to remain over the years despite how the web has evolved, and honestly doesn't care about search engines.
They did, of course, get into politics, and Drudge particularly went after Hillary Clinton. He asked why the media doesn't talk about her "lovers," said that a majority of voters would vote for her if she was just a "brain in a jar," and called her both "old" and "sick."
He warned that if Clinton is president and has power over the NSA, "good luck if you dissent."
Drudge continued going off on the Democrats, but did tell Jones he's more angry at the "sick" Americans than he is at Clinton or President Obama. At one point, when he went off on Democratic gun policies, he challenged both of them to dismiss their armed security and see how they like it.
He also said Obama could have easily been impeached following the IRS targeting scandal.
Watch the whole thing above, via The Alex Jones Show.
[image via InfoWars]
— —
Follow Josh Feldman on Twitter: @feldmaniac
Have a tip we should know? tips@mediaite.com
Josh Feldman - Senior Editor