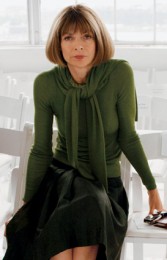 The Great McKinsey-Condé Nast consultation continues. This week finds the intrepid consultants making a visit to Anna Wintour's office. And the what they've apparently gleaned is that Vogue is a great representation of everything that is wrong at Condé. This from today's New York Observer:
If McKinsey and Mr. Townsend can figure out how to maintain the majesty of a brand like Vogue, while also reining in editorial costs (photo shoots, models, hair and makeup, clothing allowances for Anna, and so on), then they'll feel they can effectively accomplish that for other brands, a source said.
Translation: If McKinsey can figure out how to make Vogue more profitable and relevant in the brave new media world, they can do anything! Actually, they are apparently looking at both Vogue and Condé Nast Traveler as examples of how to deal with the whole company. And not only because of their "magesty" — both magazines have "unusual Web strategy." And finally we arrive at the crux of the problem:
Vogue is represented online by style.com and Traveler by concierge.com., rather than by their own brand names. Several Condé Nast insiders have told The Observer in recent weeks that Anna Wintour is beginning to the "get the Web," and perhaps the McKinsey trip helped prompt a sudden awakening.
Perhaps the question really is, does a magazine, or its legendary editor deserve to survive, if it can be said of them in the summer of 2009 that they are "beginning to the get the Web"?
Have a tip we should know? tips@mediaite.com