Mediaite's Noah Rothman To WGN's Carol Roth: Harris-Perry's 'Radical' MSNBC Promo Is 'Doctrinal Marxism'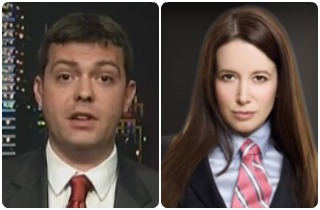 Mediaite's own Noah Rothman joined WGN's Carol Roth on her radio show to discuss a few recent media stories — Melissa Harris-Perry's controversial MSNBC promo and the Associated Press ditching the term "illegal immigrant." Rothman was critical of both, especially underlining the left's frustration with being called out for their "socialist" ideas.
Roth called Harris-Perry's take a "new thought process," adding that we can't neglect the role of parental responsibility. "The left gets really frustrated when you accuse them of being socialist, or espousing socialist ideals," Rothman argued. And then you hear things like this MSNBC promo, which is "doctrinal Marxism."
Rothman further criticized the "radical notion of societal evolution," as Roth brought her own personal experience into the discussion. She and her husband chose not to have children because with their busy professional lives, she said, she didn't feel she'd "be able to give enough to our child." It was a "responsible but difficult" decision, she added, noting that she made it knowing that she would be responsible for her children.
Harris-Perry's ad, then, doesn't quite ring true. But, Roth went on to ask, was the promo simply poorly worded? Rothman argued that the whole ad was approved through a process and eventually aired, commenting on MSNBC's "sermon ads." He noted that Harris-Perry had just released another MSNBC promo in which she claims that some degree of inequality is acceptable to Americans because it's a reminder that they live in a meritocracy.
It's not a left/right issue, Roth continued later in the segment — it's simply about "accountability and common sense."
At another point in the show, the pair discussed the role of the media in shaping political discourse "that sometimes ends up not very balanced." Specifically, about the recent Associated Press decision to drop the term "illegal immigrant." There's no need to "coddle" those who break the law, Roth contended.
Calling them "illegals" is offensive, Rothman noted, but the AP's decision is "in service to a political force" that aims to shed the term because it's "counterproductive" to getting comprehensive immigration reform passed. And this, he said, is just one example of how the left has gotten their way.
Listen below:

Have a tip we should know? tips@mediaite.com