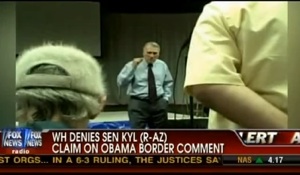 Earlier we reported that Senator Jon Kyl had publicly claimed during Tea Party Town Hall meeting, that President Obama had privately told the Arizona Senator that the administration was effectively not securing the U.S. border with Mexico so as to gain the necessary political leverage to enact immigration reform. Kyl's account of this private conversation in the Oval Office has since been harshly rebuked by the White House, claiming "the President didn't say that and Senator Kyl knows it." Kyl's spokesman has already countered the WH rebuke.
White House Communications Director Dan Pfeiffer released the following response to the Kyl's accusation:
"The President didn't say that and Senator Kyl knows it. There are more resources dedicated toward border security today than ever before, but as the President has made clear, truly securing the border will require a comprehensive solution to our broken immigration system."
Kyl's spokesperson Ryan Patmintra countered the rebuke with the following release:
"There were two people in that meeting, and Dan Pfeiffer was not one of them. Senator Kyl stands by hes remarks, and the White House spokesman's pushback that you must have comprehensive immigration reform to secure the border only confirms Senator Kyl's account"
Well just as we predicted earlier this morning when the video of Kyl's comment first surfaced, with two individuals sharing a private conversation, this has clearly devolved into a "he said, he said" debate. However, has reported by Fox New's Trace Gallagher appearing on America Live.
Host Megyn Kelly surmised the back-and-forth thusly "we are expecting sparks from this during the White House briefing room" and also contextualizing the story as "now you have the White House coming back and basically calling Jon Kyl a liar."
Have a tip we should know? tips@mediaite.com