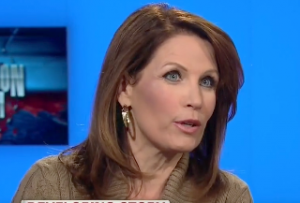 Have you ever wondered what it would look like if Sarah Palin were held at gunpoint and forced to drunk-tweet slam poetry? Well, then former Congresswoman Michele Bachmann's (R-MN) latest WorldNetDaily column is for you. The rambling, stream-of-what-can-only-loosely-be-called-consciousness blog post touches on a wide range of horrible Obama failures, but most notably posits that maybe God sent the terrorists to Brussels to humiliate President Obama:
Or maybe our president's humiliation comes in a manner so devastating it makes one wonder whether the Creator of humankind isn't reminding this world of the inferiority of foolishness in the face of wisdom.

The president once again mocked his nemesis, the Jewish people and the nation of Israel, by cleverly turning the international press corps toward his brilliant work in Cuba, instead of covering ongoing Islamic attacks against the Jewish state as outlined that very same day at the annual pro-Israel AIPAC meeting in Washington, D.C.

History changed less than 24 hours later in the blink of an eye, and the rug was pulled out from under his well-laid plans.

Obama's slavish press corps was forced to turn their uncritical gaze from adoring him to revealing the newest carnage in Brussels.

Our eyes were spellbound.
No, they weren't, Michele, you're just looking at the wrong camera.
If this truly is a clash of civilizations, as Bachmann believes, then telling the world that God sent terrorists to make Obama look bad is not great PR for Christianity.
You can read the entire loopy thing here.
This is an opinion piece. The views expressed in this article are those of just the author.