Michelle Obama to Throw Exercise-Themed Birthday Dance Party Because of Course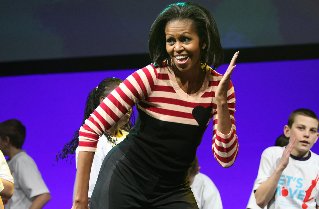 Were you aware that Michelle Obama has dedicated her entire tenure as the United State's First Lady to the cause of fighting childhood obesity? Were you aware that obesity can be prevented with exercise? And that dancing is a great form of exercise? And that Michelle Obama can dance? And that dancing can stop obesity? And that Michelle Obama wants to fight obesity by dancing everywhere and with all the celebrities? No? No, you did not know these things?
Then boy, is the Chicago Tribune thrilled to inform you of Michelle Obama's upcoming 50th birthday celebration, which has the sexy and sophisticated theme of "dancing."
According to a leaked invite from the White House, guests are expected to "wear comfortable shoes, eat before you come and practice your dance moves" before the January 18th gala entitled Dance Dance Revolution: Obamalectric Boogaloo "Snacks & Sips & Dancing & Dessert." So far, the list of performers have yet to be released, but we assume it's going to be Beyonce, those underpaid actors who have to encourage kids play limbo at Bat Mitzvah parties, and a set of animatronic singing animals from a Chuck E. Cheese's.
It's evident that the beleaguered White House wants to spin Michelle Obama's Super Sweet Bat Mitzvah into positive PR, but really, Michelle Obama has thoroughly owned the concept of dance, much like Sean "Diddy" Combs owns the concept of wearing white clothing so thoroughly that he's forced to throw a party celebrating that fact every year.
In any case, Mazel Tov to Michelle Obama, welcome to latter-womanhood, and when I say "happy," you say "birthday."
[The Chicago Tribune h/t Politico]
[Image via Wallsave.com]
>> Follow Tina Nguyen (@Tina_Nguyen) on Twitter
Have a tip we should know? tips@mediaite.com