Michigan Gov. Says He'll Drink Filtered Flint Water for a Month; People Unimpressed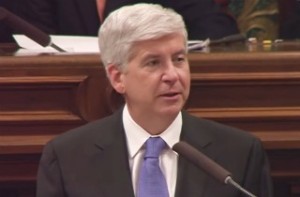 Michigan Governor Rick Snyder responded to community complaints by announcing yesterday that he'll be drinking filtered Flint water for 30 days.
Snyder has been the target of much outrage over the water crisis in Flint over how long it took him to finally acknowledged there was a problem. Well, Snyder released this news yesterday:
"I completely understand why some Flint residents are hesitant to drink the water and I am hopeful I can alleviate some of the skepticism and mistrust by putting words to action," Snyder said. "Flint residents made it clear that they would like to see me personally drink the water, so today I am fulfilling that request. And I will continue drinking Flint water at work and at home for at least 30 days."
He's insisting that the filtered water is now safe enough to drink, and the idea here is the governor will lead by example and educate people on how to use filters and all the rest of it.
But a lot of people are unimpressed by this and calling it a stunt:
Gov. Rick Snyder is going to drink the Flint water he allowed to be poisoned for 30 days to show that alpha job creators are immune to lead.

— David Roth (@david_j_roth) April 19, 2016
Gov. Rick Snyder plans to drink filtered tap water from Flint for a month. In my "unfiltered" opinion, he should be drinking prison water!

— Bette Midler (@BetteMidler) April 19, 2016
.@onetoughnerd's stunt is smoke and mirrors. It doesn't erase the past & doesn't fix the #FlintWaterCrisis. A PR campaign is just insulting.

— Richard L. Trumka (@RichardTrumka) April 19, 2016
@onetoughnerd @MLive Cute Stunt! Now go and bath in their tubs and see if you don't get the same illnesses as many of your residents.

— Mark Ruffalo (@MarkRuffalo) April 19, 2016
@onetoughnerd @MLive drink unfiltered and then we'll talk.

— juanrod (@juanrod) April 19, 2016
@onetoughnerd @MLive great to see this! Forgive me if I ask for impartial third-party verification. Also, your grandkids gotta drink it.

— Cadence Cellardoor (@cobaltskky) April 18, 2016
Let's make that month of tap water from July 2015. Let's see how brave @onetoughnerd is then. https://t.co/mx3PfWh20I

— Lucas Neff (@RealLucasNeff) April 19, 2016
Don't forget to bathe in the #Flint water, @onetoughnerd – @MLive https://t.co/QYwuVkKhmF @MMFlint

— Frances Fisher I❤️99 (@Frances_Fisher) April 19, 2016
Gov. Snyder – @onetoughnerd– said he'll drink Flint water 4 the next 30 days. Little late. How abt u talk to kids w/ lead poisoning instead?

— Lee Camp [Redacted] (@LeeCamp) April 18, 2016
And Flint mayor Karen Weaver threw down the gauntlet thusly:
"He needs to come and stay here for 30 days and live with us and see what it's like to use bottled or filtered water when you want to cook and when you want to brush your teeth."
[image via screengrab]
— —
Follow Josh Feldman on Twitter: @feldmaniac
Have a tip we should know? tips@mediaite.com
Josh Feldman - Senior Editor