'Militia' Leader Ammon Bundy in Custody After Three-Week Standoff in Oregon (UPDATED)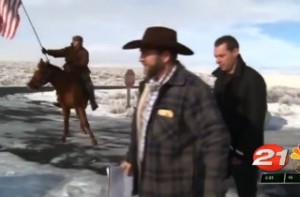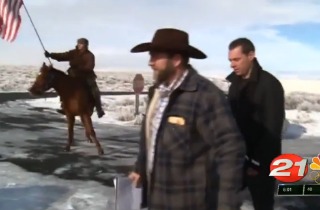 Ammon Bundy, the leader of the self-proclaimed "militia" that seized a wildlife refuge to protest federal management of land in the Western U.S., has been captured, according to reports from KATU in Portland. One person is dead, and six of Bundy's followers were also arrested.
Pete Santilli, a supporter of Bundy whom OregonLive has described as a "self-styled journalist," had been live streaming the events. He was later arrested.
OPB reported that Harney District Hospital in Burns, Oregon is on lockdown, and that local highways US 395 and US 20 were closed in both directions.
KATU 2 in Portland is reporting that there are multiple injuries, and that the arrest began with a traffic stop while Bundy and some followers were driving to John Day. Their report continues:
Ammon Bundy, Ryan Bundy, Brian Cavalier, Shawna Cox and Ryan W. Payne were arrested during the stop.

They're all facing federal felony charges of conspiracy to impede officers of the US from discharging their official duties through the use of force, intimidation or threats.

One person, who was the subject of a federal probable cause arrest died. It's unclear who fired first.
Officials from the FBI, Oregon State Police, and other law enforcement agencies made the stop, after which shots were fired, according to KATU 2. CNN reported that it was not initially clear who shot first.
Harney County Sheriff Dave Ward told OPB that he will issue press release shortly.
Bundy and his group seized the Malheur National Wildlife Refuge on Jan. 2. The local sheriff's office had determined that their presence was unlawful, but outside of a handful of arrests, there had been no major effort to intervene or confront the occupiers.
Oregon Gov. Kate Brown last Wednesday decried what she characterized as an inadequate federal response to the occupation. She said that the "spectacle of lawlessness must end."
This story is breaking and is being updated.
UPDATE — 7:02 a.m. ET: Outlets are reporting this morning that one person was left dead:
1 killed as feds move in, arrest #Oregonstandoff leader Ammon Bundy https://t.co/CW7UM4npV5

— Des Moines Register (@DMRegister) January 27, 2016
The deceased has been identified as Robert "LaVoy" Finicum, the author of the book Only by Blood and Suffering.
Have a tip we should know? tips@mediaite.com