Sen. McConnell Urges GOP to 'Stand Up to' 'Utter Nonsense' From Tea Party Purists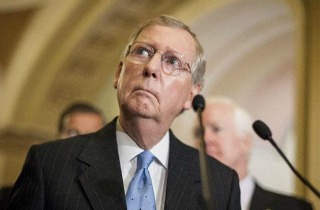 Senate Minority Leader Mitch McConnell has had it with a cottage industry of conservatives in political media and the grassroots which has singled out him and other Republican officeholders for primary challenges. In an interview with The Washington Examiner, McConnell urged Republicans to "stand up to" conservatives who insist that McConnell's brand of governing is tantamount to acquiescence to Democratic priorities.

"There were people who were basically afraid of [conservatives], frankly," McConnell told the Washington Examiner in a lengthy interview. "It's time for people to stand up to this sort of thing."
"The Senate Conservatives Fund is giving conservatism a bad name. They're participating in ruining the [Republican] brand," McConnell said. "What they do is mislead their donors into believing the reason that we can't get as good an outcome as we'd like to get is not because of a Democratic Senate and a Democratic president, but because Republicans are insufficiently committed to the cause — which is utter nonsense."
RELATED: McConnell Office Fires Back at Conservative Group for 'Profoundly Stupid' Logic on Filibuster
McConnell observed that the GOP sacrificed a number of winnable races in 2010 and 2012 by nominating candidates that were too conservative to win general elections. He cautioned the party to avoid falling into this trap for a third election cycle in a row. McConnell, who is running for reelection in 2014, faces a primary challenge from self-described tea party candidate Matt Bevin.
"To have the kind of year we ought to have in 2014, we have to have electable candidates on November ballots in every state," McConnell said, "people that don't scare the general electorate and can actually win, because winners make policy and losers go home."
The Washington Examiner quotes Republican Party strategists who say that a the often promised backlash of the GOP's "pragmatists" against the unrealistic GOP's grassroots appears to have begun in earnest.
However, the Examiner also quotes a conservative activist who says that no amount of backlash will stop grassroots conservatives who are deeply concerned about the direction the country is heading in from backing candidates "who will actually stand up and fight for them."
[Photo via Pete Marovich/ZUMA]
— —
> >Follow Noah Rothman (@NoahCRothman) on Twitter
Have a tip we should know? tips@mediaite.com