MLB Institutes New Hazing Policy Which Includes a Ban on Players Dressing Like Women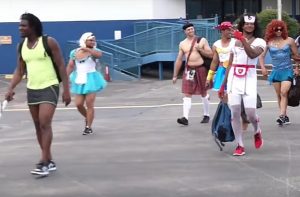 Major League Baseball and the MLB Players association recently came to an agreement on a new labor pact. As part of the deal, Major League Baseball is instituting a new hazing policy which, according to one report, includes a ban on players being made to dress like women.
The Associated Press reports that the policy forbids teams from "requiring, coercing or encouraging" players to undergo certain hazing rituals which include "dressing up as women or wearing costumes that may be offensive to individuals based on their race, sex, nationality, age, sexual orientation, gender identify or other characteristic."
The policy reflects a change in thinking on the issue for MLB, which still has hazing videos like the one below posted to its official YouTube acount.
Rookies have long been subject to various methods of hazing. But the issue has come under more scrutiny in the sport in the wake of a videotaped incident of hazing which reportedly included a sexual assault at the Texas Rangers minor league facility in the Dominican Republic.
Some former players, including one-time Boston Red Sox infielder Kevin Youkilis, spoke out against the new policy on Twitter.
Seriously?! Had to wear a Hooters outfit going through customs in Toronto and wore it proudly bc I was in the Show. https://t.co/xswNVAOaKQ

— Kevin Youkilis (@KYouk_2036) December 13, 2016
But the AP report quoted MLB vice president Paul Misfud as saying, "We've also understood that a number of players have complained about hazing."
The AP also quoted former New York Mets second baseman Jeff Kent as being openly resistant to hazing when his teammates tried to subject him to it back in the early '90s.
"I paid my rookie dues in Toronto," he said then. "I feel I have endured my embarrassments, my punishment. I felt I was being taken advantage of. They wanted to go overboard. I stuck up for myself. I won't be pushed around," Kent said.
[image via screengrab]
–
Follow Joe DePaolo (@joe_depaolo) on Twitter
Have a tip we should know? tips@mediaite.com
Joe DePaolo - Senior Editor