Press in Shock After Trump Cancels News Conference, Then Takes Meeting With Kanye West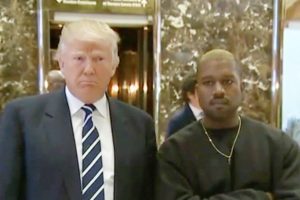 Last night, President-elect Donald Trump canceled an upcoming press conference, which was frustrating to the press on its own. After all,  once someone is elected to the presidency, they usually hold a conference right away or, at most, within a few days. His last one was in July, so he's clearly flouting tradition. Speaking of that, did you know Kanye West showed up to Trump Tower today for a meeting with the business mogul-turned-world leader?
If you follow any political reporters, you know. As you could expect, no one is overjoyed that Trump has time to meet with an eccentric, controversial rapper but has no time to talk openly about his business conflicts or cabinet appointees.
MSNBC's Cal Perry said on-air that he had been hoping he wouldn't have to field any questions about West's visit, since it isn't his "area of expertise." Here are a few other reactions:
"I've seen it all." – @sallykohn to @CarolCNN upon learning of #Kanye's visit to Trump Tower just now.

— Elaine Walker (@elainewalk) December 13, 2016
Donald Trump: doesn't have the time to address his business conflicts.

Also Donald Trump: has time to meet with Kanye West.

— Olivia Nuzzi (@Olivianuzzi) December 13, 2016
Actually presidential transition pool note: "Kanye West just arrived in Trump Tower."

— Jeremy Diamond (@JDiamond1) December 13, 2016
Trump has no time/interest for Daily Presidential Intel Briefing. But has time to meet w/Kanye West. Like I said, u can't make this crap up. https://t.co/DnuITXbV3y

— Ana Navarro (@ananavarro) December 13, 2016
BREAKING NEWS: Kanye West just entered Trump Tower.
This is not a drill, or a joke.

— Piers Morgan (@piersmorgan) December 13, 2016
West — who was recently hospitalized for his erratic behavior — has long been a Democratic backer and voter, but has praised Trump recently. Moreover, he has publicly attacked former friends and collaborators Beyoncé and Jay Z, both of whom were Hillary Clinton supporters. Is West meeting with Trump because of his beef with them? When the famous couple did a concert for Clinton, Trump dismissed it, claiming he didn't need any celebrities to back him. It was conspicuously noticeable throughout the campaign season that no current or relevant celebrities would publicly support him, so if West is choosing to work with him on something, it could be his first major celebrity endorsement.
We will certainly update you when we learn what the meeting was about. Even when they emerged for a photo-op after the meeting, neither of them would explain.
Maybe we will learn when we finally get that press conference.
[image: screengrab]
This is an opinion piece. The views expressed in this article are those of just the author.