Must Reads: How ISIS Got Rich, and How Christie Got a New Bridge Investigation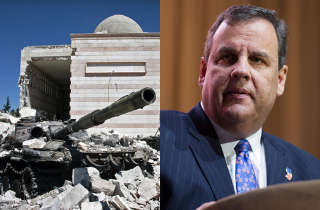 Every a.m., Mediaite publishes a primer of what the interweb machine is writing, talking, tweeting, and blogging about, so that you may fool friends and family into thinking you are a trove of information and insight. Today: Bridgegate Part Deux, how ISIS made its fortune, why it's making infographics, and more.

"2nd Bridge Inquiry Said to Be Linked to Christie" (Matt Flegenheimer, William K. Rashbaum, and Kate Zernike, New York Times)
An SEC investigation has found possible securities violations in repair work down to the Pulaski Skyway, a bridge connecting Newark and Jersey City. New Jersey Governor Chris Christie probably never wanted to hear his name and "bridge" in the same sentence ever again, but here we are. On, and Joe Scarborough has some thoughts on this and the New York Times, if that's your thing.
"Records show How Iraqi Extremists Withstood U.S. Anti-terror Efforts" (Hannah Allam, McClatchy)
How ISIS stole, bullied, and organized its way into a resourceful terrorist operation capable of withstanding all manner of counter-insurgency tactics — and all this before they robbed a bunch of banks and made off with $420 million. McClatchy finds the operations corporate-like and "almost obsessive about record-keeping."
"The Surreal Infographics ISIS is Producing, Translated" (Ezra Klein, Vox)
Speaking of that obsession with record-keeping, Ezra Klein reads ISIS' 410-page report annual report and translates their suicide-vest-heavy infographics. Key quote: "Metrics effectively demonstrate the use of centrally distributed resources, such as suicide bombers." Explanatory terrorism!
"What If Benghazi-Mania Is As Good As it Gets?" (Brian Beutler, New Republic)
Brian Beutler considers the current D.C. bluster and finds it pretty good compared to past shutdowns and future scenarios in which the GOP goes long on impeachment or controls both houses and sets up a round of veto tee-ball — a situation not likely to improve, given the 2016 playing field. We're living in the Halcyon days!
[Images via Christopher Halloran / Shutterstock.com / Christiaan Triebert / Shutterstock.com]
——
>> Follow Evan McMurry (@evanmcmurry) on Twitter
Have a tip we should know? [email protected]