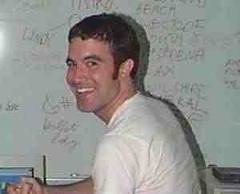 This appears to be the end of the mirror shot. Myspace has just been sold to Specific Media, an advertising network for $35 million. $35 million doesn't sound too bad until you remember that News Corp. purchased the company for $580 million in 2005. Ouch. This reminds me of that 30 Rock moment when Jack Donaghy tells Liz Lemon that a large portion of NBC's programming priorities are to "make it 1997 through science or magic". I can imagine that Myspace has spent the past 5 years trying to build a time machine to go back to 2006: looks like they're throwing in the towel.
Myspace CEO Mike Jones sent out this internal email today:
From: Mike Jones
Sent: Wednesday, June 29, 2011 11:26 AM
To: Myspace All
Subject: IMPORTANT COMPANY NEWS
Importance: High

Myspacers,

Today, we are announcing that Myspace will be acquired by Specific Media, one of the world's leading online media and advertising platforms. Over the next few days you will be hearing from the team at Specific, including their CEO, Tim Vanderhook, regarding their exciting plans for Myspace and how it fits in with the overall vision of their company.

In conjunction with the deal, we are conducting a series of restructuring initiatives, including a significant reduction in our workforce.  I will assist Specific with the transition over the next two months before departing my role as Myspace CEO.

I wanted to take a minute to thank you all for the incredible experience it has been to lead this company and to work closely with all of you over the past several years. While I regret we won't be working together at Myspace any longer, I am very proud of the work we have done here and believe we have performed with excellence – even under extremely difficult circumstances.

My time here at Myspace represents the most engaging and challenging time of my professional career. I have found our team to be comprised of the best people I have come across in our industry.

You can read the press release below.  Once again, thank you for all of your hard work and dedication.

Thanks,

-M
Restructuring initiatives indeed: Myspace will be letting go of about half of their staff, which is at about 400 currently. Also, removed from this email is Mike Jones' P.S. "Screw you Facebook".
(h/t Tech Crunch)
Have a tip we should know? tips@mediaite.com