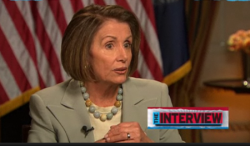 Taking a break from the "presumably dramatic" caucus on health reform yesterday, Nancy Pelosi sat down to talk with Rachel Maddow. The interview provided a number of interesting exchanges about both Eric Massa (whom Pelosi didn't seem too eager to chat about) and Maddow favorite Bart Stupak. "Every bill is a heavy lift," says Pelosi. "Let's talk about someone who is trying to make it heavier," says Maddow.
Maddow: Stupak says that the bill, as currently written, spends money on abortion. Is he telling the truth?

Pelosi: Let me say that I have the highest regard for Congressman Stupak. He's a valued member of the Congress. The facts are these: There is no federal funding for abortion in the legislation.
And then Pelosi concedes that if he really wanted to Stupak could ostensibly read federal funding of abortion into the bill because there is a tax deduction for a woman who has a health insurance plan that allows for reproductive health services in it. Not exactly the resounding NO I think Maddow was hoping for…something that was sort of clear in her facial expression.
Clearly, Pelosi is not looking to alienate Stupak or anyone else (she hasn't been able to pass all of President Obama's 'planks' for nothing!) and when Maddow pushes her on Stupak's 'group of twelve' Pelosi is eager to point out this bill is not about abortion. It's about plenty of other things, which Pelosi describes well and convincingly ("up until now being a woman has been a pre-existing condition). But I'm not sure Maddow buys that it's not going to come down to abortion and in Pelosi's defense, when pushed, she does say she won't let the bill be "hijacked" though she's not specific on the 'by whom' part. Video below.
Have a tip we should know? tips@mediaite.com